Click on photos for detail. - No wholesale on this page.
A note about One Size on all shirts below: This means it fits most sizes, but not if you're very petite or 1x or larger. If the wearer is small, you can tie the bottom of the shirt in a knot on one side or have it inexpensively altered at a dry cleaner.

Bride T-Shirt - $25.99 Sale! $22.99
Deluxe 100% cotton tee shirts for the bride. This white tee has beautiful gold embroidery. One size fits most.
---

Bachelorette On the Loose T-Shirt - $17.00 Sale! $15.98

This fun Bachelorette On the Loose tee is great for the bachelorette to wear out to the bars or clubs, even at a house party! The pretty pink shirt says, "Bachelorette On the Loose!" written in silver on top of a cartoon picture of a ball and chain One size fits most.
---

Bachelorette's Last Night Out Tee with Pen - $17.50 Sale! $16.90
Incredible fun for the Bachelorette and her Bachelorette party! The Bachelorette has to complete all of the outrageous dares on the front of this T-Shirt and check each one off with the enclosed marking pen! There's plenty of room on the back for autographs, guys' phone numbers and hints for a successful marriage from everyone she meets! One size (XL) fits most.
---


Final Fling Before the Bling! Bling! Tee and Giant Faux Diamond Ring Set - $26.00 Sale! $23.98
Everyone will be telling her, "You go girlfriend!" This fun shirt includes the ever popular ginat 1K ring so she'll bling all night long. Sparkle and and gold ink on shirt so it stand out. One size fits most.
---

Final Fling Shirt - $21.00 Sale! $19.98
This sexy shirt is very cute and classy! Sparkle silver ink. Package shows back of shirt. Model at top of page shows front of shirt. Click image to enlarge. One size fits most. A little more fitted than a big boxy tee.
---

A Buck A Kiss T-Shirt Kit & Refills - $21.00 Sale! $19.98
Make an easy $50 with this fun kit! Just pin the 50 tattoos on both sides of the shirt, then head out to the bars! She offers a 'Kiss' to all the guys in exchange for a buck, then apply the tattoo to the donor with the enclosed kiss-shaped wet sponge. Give the cute guys a real kiss too if you like! Lots of fun. Includes the shirt, 50 kiss tattoos, lip-shaped sponge and safety pins. One size fits most. Kiss tattoo refills available.
---

Extremely Naughty Dare T-Shirt & Pen - $21.00 Sale! $19.98
Not for the shy bachelorette, unless you want to torture her! Stretchy material, not like other cotton T's, so it has a better fit. One size fits most.
---

Bachelorette Sexy Little Devil Short Sleeve Shirt - $19.00 Sale! $17.49

Eye catching glitter logo. Material is super stretchy for a nice fit from petite small up to extra large, so it fits most.
---

Bachelorette Last Night Out 69 Baby Tee - $19.00 Sale! $17.49

Highly fashionable and very cute. Very comfortable with a little stretch to the fabric. One size, a bit more fitted than regular tees.
---

Kiss Me Quick Before I Sober Up T-Shirt - $14.99

Hot pink shirt is ladies large, so it fits more, but is fitted, so it's not too baggy. 100% cotton.
---

Bachelorette Tee - $16.00 Sale! $15.50

BUY ME A DRINK IT'S MY BACHELORETTE PARTY - White cotton tee with lots of room to write advice and well wishes on the back for the bachelorette. One size, in large. Kind of thin, but kind of a nice price.
---


Suck for a Buck T-Shirt & Kit Refills - $23.99 Sale! $21.98
Unbelievable fun! This shirt alone is enough to keep the party going all night. The idea is to get as many guys as possible to suck off packaged candies off the shirt and make them pay $$$ to do it. Get them to suck the ing lights for $5! T-Shirt includes safety pins and dozens of packaged candy mints. One Size. Make your own Suck for A Buck with the kit offered.
---

Cheers Martini Camisole - $21.99 Sale! $14.50
This adorable cami has a shelf bra inside so you can really go bra-less! Made of 95% cotton and 5% spandex for a flattering fit. White cami has cute martinis and Cheers! written on it. More Martini Party Items
---

Sparkle T-Shirt Customize-It Kit - $23.99 Sale! $19.99
Everything you need to add some sparkle and to customize 5 of your own t-shirts, camisoles, jackets, skirts, tote bags, etc. Includes 4 Party Girl and 1 Bachelorette iron-on diamante transfers. Full instructions included. (clothing not included)
---

Bachelorette Sash - $9.20 Sale! $

7.85

Nice quality satin sash with pink and purple stripes that says 'Bachelorette' in pretty red cursive writing.
---

Bachelorette Sash with Rhinestones- $7.99
Nice sash in all black with silver lettering in Bachelorette and small rhinestone bling that spells out Bachelorette at each end. One size fits most. Secure with a pin at the bottom.
---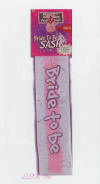 Bride to Be Flashing Sash - $9.00 Sale! $8.00
Adorned with flashing little lights, this is sure to make an announcement that this is her last night out! Made of satin, 28 inches long by 6 inches wide. One size fits most.
---


Miss Bachelorette Sash - $10.95 Sale! $9.15
This is a very cute must-have for the party! Sparkling red sequins garnish the edge of this sash. One size fits most.
---

Miss Bachelorette Flashing Sash - $17.50 Sale! $14.50
Little flashing LEDs make this sash stunning and your bachelorette will take center stage! Sparkling hot pink sequins garnish the edge of this sash. One size fits most.
---

Bachelorette Sash - $4.99
Pretty and shiny silver banner, strut your stuff! Made of mylar material. One size fits most.
---

Blow Job Bib - $3.00
Possibly the most embarrassing attire for the bachelorette. Vinyl.
---

Suck for a Buck Bib - $2.00 Sale! $

1.75

Money Maker! Suck for a Buck! Party Bib. The five steps to success: Step #1: Tape or safety pin CandyprintsTM SFAB Candy over small icons on bib. Step#2: Remember, honey, it's all about the ATTITUDE! Step#3: Sell for $1 to bar or party attendees. Step#4: Attendee may remove SFAB Candy with hand or mouth. Step#5: Stand back and count money! Great for Bachelorette parties, drinking games, business lunches and love affairs! 10 x 12"
---

Helping Hands Party Top - $10.00 Sale! $9.49
Show 'em what you're holdin'! Be the top draw and star attraction at any party bash with this top. Fun bathing top is sure to have all eyes on you as you trust your stuff by wide-eyed on-lookers! Adjustable straps for comfortable one size fits all, snug fit. See thru plastic straps give the 'hands on' look that will have your friends wondering how it stays on!
---

Bridal Chemise - $25.00 Sale! $23.99
From Coquette's Signature Line of lingerie is this two piece lace bridal chemise with front ribbon opening, criss cross straps in back and side slits. Includes bridal veil headband. White, one size fits most. Does not include g-string.
---
T-Shirts, Tank Tops and Sashes Tiaras, Veils, Hats and Bobblers
Pins, Masks, Jewelry, Ball & Chain, Chastity Belt, Etc. Party Games & Pecker Piñatas
Party Kits, How-to Books & Photo Albums Tableware, Servingware & Drinkware
Decorations, Confetti, Music & Photo Albums Cookware, Cake Pans & Cookie Cutters
Invitations, Wrapping Paper, Cards & Gift Bags Pecker Novelties, Prizes, Soaps, Pens, etc.
Inflatable Male Dolls, Blow Up Peckers, Dolls & Balloons Penis Candles
Penis Cookies, Candies, Gummies & Sweet Treats Penis Chocolates Made to Order
Bridal Shower Party Supplies - Nothing Naughty! Wedding Novelties and Gifts
Lingerie makes a perfect gift! Click Here
Gifts & Games for Couples & Brides To Be, Click Here