Click on photos for detail.

Pecker Roses - $3.00 Sale! $1.99 ea.

Cute pecker inside of each rose. Roses have silk-like leaves and petals. Order a dozen and we'll tie them in a bunch.
---

Favor Boxes - $3.00 Sale! $2.45
Give your gal-pals goodies on your big night! These 6 Bachelorette Favor Boxes can be filled with candy, shot glasses, light up rings, bead bracelets, I.D. pins or whatever else you can think of. It is your night, do it up right!
---

Award Ribbons - $3.00 Sale! $2.25
Three award ribbons for the best party girl, flirt and drinker. Cute and colorful graphics.
---

Grow Your Own Willie - $3.00 Sale! $3.40 ea.
Stand back! You never know how big he'll get! Grows 600% his mini size in about 3 days. Use over and over again. For for bachelorette prizes, gift bags, slip into a greeting card, etc. Colors vary.
---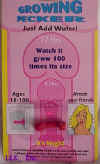 Growing Pecker - $2.50
Just add water and watch it grow and grow! Assorted colors. Colors vary.
---

Sex Detector
Just like the fortune fish, the penis tells you if you're hot or a limp fish. Hold it in the palm of your hand and see what your personality trait is by the way it moves, curls or stays still. Fun party game.
---

Pecker Lipstick - $2.50 ea.
Color those luscious lips with Pecker Lipsticks Each box contains 12 lipsticks with an array of color from Hooker Reds Creamy Pinks Sparkly Mauves and Opal Rouge each lipstick case is a clear top with a twist bottom. Clear case may vary from what is pictured. The lipstick themselves are rich in color and pecker shaped complete with a veiny shaft and perfect mushroom head. Let us choose your color on single pieces.
---


Wind Up Jumping Jolly Pecker
Wind him up for some wacky fun. Available in glow in the dark or flesh colored. Sold by the each or 12 pc display.
---

Blow Me Bubbles - $4.99
Perfect for any Bachelorette Party or even a Girls Night Out! Blow Me Bubbles are a little party in penis shaped a bottle with a penis shaped wand. 1/2 oz bottle. You can fill refill with dish soap to make more bubbles.
---

Penis Toothbrush - $3.75
Now you have something to really smile about!
---


Risqué Bachelorette Party Candies - $2.75 box ea.
Hard candies in five tangy fruit flavors with fun risqué messages and peckers! - 1.6 oz. box.
---

Fun Dual Color Condom Pops - $1.55 each
High quality lubricated condoms in assorted colors, let us choose for you or order them in pink and red or holiday green and red combinations.
---

Colorful Condom Pops - $1.50 each
High quality non-lubricated condoms in assorted colors, let us choose for you.
---

Click Here for all of our Penis Soaps & Bath Products
---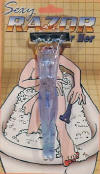 Sexy Shavers & Razors
---


Click here for party massagers, bananas & more fun vibes!
Loot Bags for your Party Prizes
Games, Books & Piñatas Penis & Strip Pens, Notepads and Tape
Penis Food & Bachelorette Candy
Tableware, Servingware, Drinkware & Decorations
Invitations, Cards, Gift Bags & Wrapping Paper
Cookware, Cake Pans & Cookie Cutters
Penis Candles Penis & Strip Pens, Notepads and Tape
Bachelorette T-Shirts, Party Hats, Dick Noses, etc.
We can get almost anything you want that's not listed on the site, just ask!
Don't forget the Penis Lollipops & Chocolates! Click Here
Lingerie makes a perfect gift! Click Here
Gifts & Games for Couples & Brides To Be, Click Here