No wholesale on this page.
Everyone will be telling her, "You go girfriend!" This fun shirt includes the ever popular 1K ring so she'll bling all night long. Sparkle and and gold ink on shirt so it stand out. One size.
This sexy shirt is very cute and classy! Sparkle silver ink. Package shows back of shirt. Model at top of page shows front of shirt. Click image to enlarge. One size.
---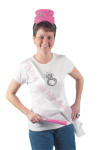 Final Fling Sexy Sash - $9.98
This high quality sash is fit for a queen! Pink imprint on white satin material. Pin sash at bottom. Comes rolled in package. Picture shows how cute whole ensemble is.
---

Final Fling Tiara & Party Horns - $7.98
Every girl in the party will feel like the party is for her with these cute accessories! Pack includes 3 tiaras and 3 party horns. Model above is wearing tiara and holding horn.
---

Final Fling Purple Glo-Badge - $4.98
This hot, purple go-badge is sure to make the bachelorette stand out from the crowd. Just squeeze the capsule inside and shake. Glows for hours.
---


Final Fling Bright Flashing Strobe Light - $4.98
Bright, red, flashing strobe light clips to any clothing, veil, hat or tiara. This makes the bachelorette demand attention! Flashes for days. Handy on/of button. Can also be dropped into a drink for a flashing cocktail.
---

Final Fling Round Invitations - $5.98
These round invitations are incredibly cute! Back includes space for date, time, location, name, given by, R.S.V.P., etc. 8 Invitations and 8 white envelopes.
---


Final Fling Napkin Trivia Game - $4.58
Each girl answers semi-risque questions about the bride and groom and then compares answers to the blushing bachelorette! Includes 25 napkins.
---

Final Fling 7" Appetizer Plates - $4.98
The perfect size for cake or snacks. Coordinates with the napkin trivia game. 12 plates.
---

Final Fling Hanging Glass - $5.98
How convenient to have her beer glass hanging around her neck! At least she wont misplace it! Pink acrylic glass.
---


Final Fling Hanging Shot Glass - $3.98
She'll always be ready for her next shot! A great signal for guys to keep her filled up. Includes built-in necklace. Pink acrylic glass.
---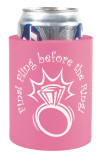 Final Fling Can Koozie - $3.98
The fun koozie serves two purposes. The first is to let the guys know it's her final fling and the second is to keep her beer or soda really cold!
---

Final Fling Spin-For-A-Dare Spinner Button - $4.98
She jut asks every guy to Spin for a Dare, then he has to complete whatever he spins! Fun for the entire party.
---

Final Fling Male Rating Cards - $5.98
These bright pink cards won't be missed! Includes 8 fun cards to tease the guys, including: Sorry, not my type, Needs some work, Edible 8, and more.
---


Final Fling 11" Balloons - $4.98
Great to decorate the party or to take out to the bars . . . or both! 10 balloons.
---
Multi-use sign can be sued on the front door of the party, then used in the car or limo, then taken to the bars. No one will miss it! 13" x 13"
---

Final Fling Car & Limo Flag - $9.98
A great way to start the evening. Take it to the bars while the car or limo is parked. A great memento, especially if everyone signs it at the end of the night.
---

Final Fling Car and Limo Suction Sign - $4.98
Let everyone know that that you're out looking for fun. Sparkle ink. Suction cup attached for use on windows or any smooth surface.
---
Use either your real names or everyone can come up with a funny name that will embarrass all the guys! 12 nametags.
---

Final Fling Photo Album - $7.98
Black leatherette with gold imprint. Holds 24 4" x 6" photos.
---
Back to Main Bachelorette Page
T-Shirts, Tank Tops and Sashes Tiaras, Veils, Hats and Bobblers
Pins, Masks, Jewelry, Ball & Chain, Chastity Belt, Etc. Party Games & Pecker Piñatas
Party Kits, How-to Books & Photo Albums Tableware, Servingware & Drinkware
Decorations, Confetti, Music & Photo Albums Cookware, Cake Pans & Cookie Cutters
Invitations, Wrapping Paper, Cards & Gift Bags Pecker Novelties, Prizes, Soaps, Pens, etc.
Inflatable Male Dolls, Blow Up Peckers, Dolls & Balloons Penis Candles
Penis Cookies, Candies, Gummies & Sweet Treats Penis Chocolates Made to Order
Bridal Shower Party Supplies - Nothing Naughty! Wedding Novelties and Gifts
Lingerie makes a perfect gift! Click Here
Gifts & Games for Couples & Brides To Be, Click Here