Click on photos to enlarge
No wholesale on this page.

Bridal Shower Dice - $4.50
The first dice picks who in the wedding party is going to do what the second dice commands. Like Bride - Tell a childhood memory. A perfectly tame game you can include Grandma and where everyone is a tattletale! A great icebreaker to start the party off with Package design may vary.
---

Wedding Bell Bingo - $7.00 Sale! $6.49
Good clean fun for your wedding shower or bachelorette party, fun for family and friends. This game can be played with up to 15 guests. Includes 15 bingo cards, player markers, caller card and caller markers.
---

Bride to Be Veil - $6.00

Cute little wedding couple sits atop silver foliage with pink flowers and a two tiers of white tulle.
---

Bride's Veil - $9.48
Add your own decorations to the plain veil or use as is for the bachelorette's last night out. Two colors to choose from. Click for more veils.
---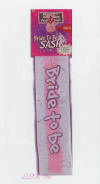 Bride to Be Sash - $8.05 Sale! $7.00

Adorned with flashing little lights, this is sure to make an announcement that this is her last night out! Made of satin, 28 inches long by 6 inches wide. One size.
---

Colossal Ultimate Faux Diamond Ring - $

2.50

This hard plastic ring is almost as big as a bracelet, 3 inches in diameter. Fun for balloon weights, paper weight, napkin rings, the spare joke ring for the groom at the wedding, table favors, joke gift for the bride, put on a cord and wear as a necklace charm, joke gift from fiancé when he's popping the question, present topper, etc. Due to extreme cold from air transit and it's rare that it happens, the glue might separate from the ring on the base. If this happens, simply re-glue with a hot glue gun, nail glue or any other quick drying type. Pricing for 72+ pcs. is $2.25 special order takes 10 days.
---

Gigantic Light Up Ring - $

3.75

This ring is plastic, but it looks like glass. It has a beautiful bright blue LED light that twists on and off. Battery included. One size fits most. Approx. 1.5" diameter. Gift boxed so it's ready to give to the bride to be for a shower gift or to wear for a night out on the town.
---

Mega Carat Light Up Ring - $

1.99 ea.

These cute rings are to wear on your finger and light up bright with a red LED. Just twist and it shines up the night. Fun for the whole group of girls. Fun to use as a signal to each other at the bar or while out on the town. Assorted band colors, we'll choose for you. Also available ring band in red and light shines red. Battery included. One size fits most. Approx. 1" diameter.
---

100 Carat Faux Diamond Ring Keychain - $14.98

One of the best gifts ever! High quality metal and 'diamond' ring holds plenty of keys with individual loops for each key. Packaged in an attractive gift box with pink satin lining. A great memento of her last night out or a reminder of her blissful days ahead. This is really nice, not cheap metal.
---


Mini Faux Diamond Ring Charms - $4.99 pkg. of 12

12 of the cutest little ring charms to use as stemware decorations, bracelet or necklace charms, make little earrings . . . so many things you can use these for! Made of metal with glass stone, tied to a satin ribbon which can be removed. Too small to be worn on the finger.
---

Bridal Name Tags - $2.50

12 self-stick name tags for weddings, bridal showers, rehearsal dinners. They say "I am proud to be with the Bride-toBe"
---

Wedding Shackles - $4.00
Plastic shackles and chain to secure the happy together forever until they kill each other. Great for blow up doll props too.
---

Ball & Chain - $5.50 Sale! $4.49

Plastic ball with cotton tie and light-weight metal chain. Package design may vary.
---
'Final Fling Before the Ring' Partyware
Wedding Themed Chocolates Sea Shell Chocolates
Lingerie makes a perfect shower gift! Click Here