Click on photos for detail


Bride and Groom T-Shirts - $23.99 ea.
Deluxe 100% cotton tee shirts for him or her. Bride's white tee has gold embroidery and Groom's black tee has white embroidery. One size fits most in XL for both sizes.
---


Bride and Groom Caps - $13.99 ea.
Bride's white cap has gold embroidery. Groom's black cap has white embroidery. Deluxe 100% cotton adjustable caps in one size.
---

Bride & Groom Hanging Shot Glass Set - $2.99

2 inch shot glasses for him and her with plastic bead necklace to hang around their necks.
---

Ball & Chain Wedding Rings - $3.00
Hey, marriage is a heavy commitment, might as well display it. Plastic balls and chains on metal adjustable ring.

Bonds and Chain Matrimony - $4.85

For your prisoner of love. Plastic ball with plastic leg iron and light-weight metal chain. package design and product may vary.
---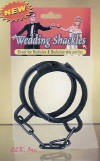 Wedding Shackles - $4.00
Plastic shackles and chain to secure the happy together forever until they kill each other. Great for blow up doll props too.
---

Wedding Vouchers for the Bride - $3.00

Booklet of eight different loving and humorously illustrated favors for the lucky bride to redeem from the groom.
---

Newlywed Challenge - $5.25
This naughty little spinner game is exciting, spontaneous and daring for the couple! Help them make ita honeymoon they'll never forget. Spinner might land on such as: Sex in the pool, Act out His Fantasy, SEX on the Beach, Sexy Striptease for Him, Sexy Striptease for Her, etc. Includes flavored hot massage oil.
---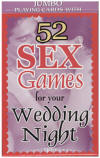 52 Sex Games for your Wedding Night - $8.95

From slightly to VERY kinky, this complete deck of jumbo cards is a must-have gift to give to the bachelorette or wedding couple. Naughty games are fun to give anonymously so the couple might not feel embarrassed to have to give you a 'thank you' note for making their honeymoon a hot one! You'll know it will be! No wedding night should be absent of this fun and provocative gift! 6" x 3.75" x 1", boxed set.
---

New Husband Voodoo Doll - $13.00 - Sale! $7.99

Whenever you feel your new husband is taking you for granted, use one of the pins to put him back in line. Stick the pin into the activity that you want your husband to do and instantly he will return back into the same caring man who convinced you to marry him in the first place. Has funny saying like, "Make Dinner for Us," "Listen to Me," "Sex is over when I say it's over" and "Buy Me Flowers." About 10" tall.

---

Bride and Groom Floating Pen - $5.00 ea.
Classic pen.
---

Just Married Pen - $5.00 ea.
Classic pen.
---

Floating Cork Popping on Champagne Bottle Pen - $5.00 ea.
Classic pen.
---
Chocolate Seashells Chocolate Hearts Kisses & Lips Chocolate Angels
Chocolate Golf Balls Chocolate Roses & Flowers