Click on photos for detail
No wholesale on this page.

Giant Foam Party Penis - $11.50 Sale! $10.89
18 inch big pink foam penis that is hard to miss. Use it to signal the bartender you're ready for another drink. Play spank the bride. Have all the party goes sign it for a fun keepsake.
---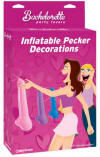 Inflatable Pecker Decorations - $15.00 Sale! $12.25
Four 15" colorful peckers perfect for indoor or outdoor use. String them up or leave them around the table for decorations. Not recommended for filling with helium, reusable.
---

Ultimate Diamond Ring - $3.00 Sale! ! $2.50

This colossal diamond ring is hard plastic and almost as big as a bracelet, 3 inches in diameter. Fun for balloon weights, paper weight, napkin rings, the spare joke ring for the groom at the wedding, table favors, joke gift for the bride, put on a cord and wear as a necklace charm, joke gift from fiancé when he's popping the question, present topper, etc. Package design may vary. Ring may also come with a neclace, but you can remove it if not wanted. More rings here
---

Bachelorette Party Foil Banner - $7.00 Sale! $5.60

A low-key banner for a bachelorette party. Reads: From Miss to Mrs. Make the girl's last night out unforgettable with some of our hilarious bachelorette party favors!
---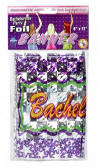 Bachelorette Party Foil Banner - $5.50 Sale! $4.25
BACHELORETTE PARTY . . . . . . The Girls Last Night Out! 6 feet long, fringed on the bottom.
---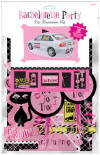 Bachelorette Car Decoration Kit - $13.00 Sale! $11.75
This kit contains tons of things to paint the town pink! Included are: Flag, Mirror Card, Magnet, Vinyl Clings and Bumper Art. The whole car or limo will be kitted out! This is really big kit. Oversized item, $2.00 shipping surcharge to East Coast and Midwest.

Click here for more party kits, car kits & packages.

---

Bachelorette's Outta Control Car or Limo Flag - $6.00
Get one for every car going to the bar!
---

Bachelorette Party Caution Tape - $5.00 Sale! $4.25
Caution: Bachelorette party - Danger: Wild Women - 20 ft poly ribbon.
---

Pecker Ceiling Decoration 6" - $3.99
Complete your Bachelorette party with style! This 60" long ceiling decoration has a bunch of fun pink items to add interest to your ceiling such as martini glasses, party blowers, and kiss prints. Even better, though, it has penis cutouts that hang down. For a hilarious hint of naughty fun, this ceiling decoration is sure to get it done!
---

Pecker Banner - $4.99
10 happy cartoon peckers make this fun banner to hang over a door or wherever to create a cute decoration for your party.
---

Bachelorette Outta Control Pennant Banner - $2.75
Vibrant in pink and black with little peckrs. Says Bachelorette Party Outta Control. Plastic pennant style banner has seven 8.25 x 12" banners.
---

Penis Pennant Banner - $5.50 Sale! $4.99
Cartoon peckers with stars and a colorful background. Pennant style banner is 12 feet long.
---

Pecker Pennant Banner - $2.99
Cartoon peckers with colorful confetti and balloons on a white background. Pennant style banner is 12 feet long.
Click for matching Invitations & matching tablecloth.
---

Bachelorette Party Window Clings - $3.69
Largest stickers are 4". Includes 15 removable stickers for cars, limos, tables, windows, anything with a smooth surface.
---


Pecker Roses - $1.75 ea.

Cute pecker inside of each rose. Roses have silk-like leaves and petals. Order a dozen and we'll tie them in a bunch if you email us or put in special instructions.
---

Penis Party Popper Confetti - $6.00 Sale! $4.40 ea.

Twist the bottom and our flies a huge surprise of colorful little penises! No explosives.
---

Glow in the Dark Streamer String - $6.00 Super Sale! $3.95

Just spray and strands of glow in the dark streamers come out to decorate anything you want. Just expose the string to light and it glows. 3 oz can.
---

Bachelorette Amusemints
Assorted fun messages and brightly colored drawings of peckers on packets of peppermints. Available in multipacks or by the whole box of 100.
---

Bachelorette Candies - $2.95 ea.
Hard candies in five tangy fruit flavors with fun risqué messages and peckers! - 2.25 oz.
---


Penis Pencil or Pen Toppers
---
Click Here for Party and Penis Balloons
Lingerie makes a perfect gift! Click Here
Gifts & Games for Couples & Brides To Be, Click Here
-