No wholesale on this page. One size fits most on all hats, veils and tiaras.

Mini Pecker Barrette Hat - $6.00 Sale! $5.25
This adorable little clip-on hat just the right touch for the bachelorette, naughty birthday girl or divorcee. Fun to get the bigger one for the bachelorette and this smaller one below for each girl in the party. Pink sequins, marabou, satin ribbon and peckers, 3.5 x 1.5".
---
Every girl in the party will feel like the party is for her with these cute accessories! Pack includes 3 tiaras and 3 party horns. Model above is wearing tiara and holding horn.
Fun metallic fringe on head band with glitzy cardboard tiara and mini veil attached to back. Says, "Bachelorette on the Loose."
Adorable little silver plastic tiaras with colorful rhinestones that come in assorted styles and colors as shown. Let us choose for you. The more you buy, the bigger the selection you'll get. Get one for all the girls in the party.

Bachelorette's Sparkle Tiara with Veil - $23.00 Sale! $19.90
This product combines two of our best-selling products! Includes our tiara with an elegant veil w/hair comb.
---

Pecker Rhinestone Tiara - $26.45 Sale! $22.99
Three gleaming peckers are quite elegant for your special party. Tiara has combs in back to help keep secured in hair. Yes, it's a little more than the other tiaras, but it's made of metal like a real tiara and has some really nice crystals set in the peckers. Great to wear with a veil.
---

Bachelorette's Hearts Sparkle Tiara - $10.00 Sale! $8.99

She's the prince for the day, so make her feel like one with this pretty sparkling tiara! Tiara has combs in back to help keep secured in hair.
---

Wiggly Penis Tiara - $6.00 Sale! $4.99
Pink marabou feathers with silver tinsel, silver plastic tiara and a sparkly pink wiggling penis make the cutest and funniest headpiece around.
---

Pecker Tiaras
Click picture for detail. Make your bachelorette or friend the princess of peckers! Choose from light up in clear pink or the original in flesh color. Both have adjustable silver plastic headband.
---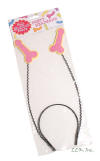 Pecker Party Headband - $3.00

Adorable wiggly pink peckers top this fun headband. Peckers are glossy cardboard. 14.5" long.
---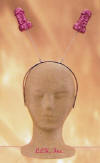 Sparkling Dicky Boppers - $6.00 Sale! $4.99

Sparkling peckers bobble above your head, secured by a headband. Lure earthlings and others with these otherworldly head toppers. Assorted colors (purple, gold, red, pink, silver), let us choose for you.
---

Blinky Wiggly Tiara - $9.00 Sale! $7.25

Adorable pink plastic sparkly boppers that light up on pink plastic headband with light pink fuzzy marabou feathers.
---

Dicky Devil Horns - $7.00 Sale! $6.49

These illuminating devil horns have alternating flashes. Goes perfect with the naughty little devil line. Batteries included.
---

Party Gal Play-Time Tiara - $7.70 Sale! $6.20

Cute flocked headband with marabou feathers and happy sparkling pink peckers. One size fits most.
---

$6.90 Sale! $5.55

Now you can explain that persisting headache. Headband fits overhead and can be hidden in your hair for best effect.
---
This white plume feather bundle with iridescent strands comes attached to a small veil. Easily attaches to hair with the clip. Very cute for a little accessory. Approx. 11 inches.

Before she walks down the aisle, let her walk around in style! This white veil has tiny rainbow-colored penises discretely sewn in. This item is a must-have for your bachelorette's last night out. Clip included to secure into her hair. The picture doesn't do this really nice veil justice. Try this veil with the matching tiara sold on this page.
---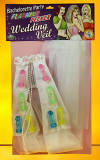 Bachelorette Light Up Flashing Pecker Veil - $17.50 Sale! $14.99

Cute clear plastic peckers light up. On/Off button on one of the flowers on barrette make it easy to use. Color arrangement of peckers on veil vary from piece to piece.
---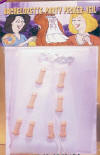 Bachelorette Pecker Veil - $13.00 Sale! $10.99

Pretty white veil with flower flourish and cute little peckers adorning the back.
---
Cute ring of satin with little pink and blue bows with little peckers attached.
---

Bachelorette's Condom Veil - $16.99 Sale! $15.98

Pin as many condoms on this veil as you like. Includes pins, colorful condoms and veil with French Clip.
---


Bachelorette's Veils

Add your own decorations to the plain veil or use as is for the bachelorette's last night out. Little Devil veil has red glass beads for the horns.
---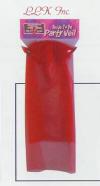 Devil Party Veil - $6.50

Red two layered veil with marabou feather trim and mylar devil horns make a great hair piece for a night out on the town!
---

Bride to Be Veil - $6.00

Cute little wedding couple sits atop silver foliage with pink flowers and a two tiers of white tulle.
---

Bachelorette's Baseball Hat with Veil - $19.99 Sale! $17.98

One Size Fits All, Embroidered "Bachelorette's Last Night Out"
---
10.99 Sale! $9.25

White adjustable cap to have friends and family sign at the bridal shower, bachelorette party, party from the gals at work, rehearsal dinner, etc. Includes pen.
---

Bachelorette White Baseball Hat - $14.00

White with ink embroidery. Suitable for wearing out or making it into an autograph hat. Use colored Sharpie pens. High quality adjustable hat.
---

Bachelorette Outta Control Baseball Autograph Hat - $8.05 Sale! $7.00

One Size Fits All, "Bachelorette Outta Control" Includes a pen to have all the 'gals' sign the hat.
---

Little Devil Baseball Hat - $14.99 Sale! $12.98

One Size Fits All, Sparkling "Bachelorette's Last Night Out" Logo. High quality, adjustable.
---

Bride Cap - $13.99

Bride's white cap has gold embroidery. Deluxe 100% cotton adjustable caps in one size.
---
T-Shirts, Tank Tops and Sashes Tiaras, Veils, Hats and Bobblers
Pins, Masks, Jewelry, Ball & Chain, Chastity Belt, Etc. Party Games & Pecker Piñatas
Party Kits, How-to Books & Photo Albums Tableware, Servingware & Drinkware
Decorations, Confetti, Music & Photo Albums Cookware, Cake Pans & Cookie Cutters
Invitations, Wrapping Paper, Cards & Gift Bags Pecker Novelties, Prizes, Soaps, Pens, etc.
Inflatable Male Dolls, Blow Up Peckers, Dolls & Balloons Penis Candles
Penis Cookies, Candies, Gummies & Sweet Treats Penis Chocolates Made to Order
Bridal Shower Party Supplies - Nothing Naughty! Wedding Novelties and Gifts
Lingerie makes a perfect gift! Click Here
Gifts & Games for Couples & Brides To Be, Click Here
-