Click on photos for detail
No wholesale on this page.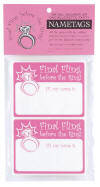 Final Fling Nametags - $3.88
Use either your real names or everyone can come up with a funny name that will embarrass all the guys! 12 nametags.
See matching products for this item
---

Party Girl Name Tags - $3.10 Sale! $2.50
12 peel and stick name badges from the Bachelorette Outta Control series. Use first line for your name and the second space to write in "Bride" or "Bride's Maid."
---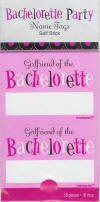 Bachelorette Name Tags - $2.75
Cute pink and black tags. Look for more items under invitations an tableware to match these. 16 nametags.
---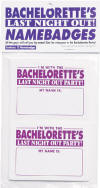 Bachelorette Name Badges - $3.78
Purple lettering, 12 pack, self-adhesive.
---

Willie Name Tags - $5.99
No need to fight over these, there's plenty for everyone in the party! The only thing is, some are bigger than others! Everyone guesses the size of the Groom-to-be's Willie and the winner gets to pass them out to the girls of her choice! Labels are die-cut.
---


Bachelorette's Business Cards - $3.99 ea.


20 business sized cards Use the cards for a buck a kiss or to ask guys to dance, if they refuse, they can pay a buck! Plain business cards pictured left have bright pink writing.
---
Back to Bachelorette Home Page
Click for more naughty tattoos

Lingerie makes a perfect gift! Click Here

Gifts & Games for Couples & Brides To Be, Click Here