Click on pictures to enlarge
On all edible undies, if we are out of a flavor you select, we will substitute with something we have in stock.

Club Bunny Lingerie - $40.00 Sale! $35.99

From the Magic Silk Cheap Thrills collection this style includes: Stretch teddy has high cut legs and thong back. Sweetheart neckline clips in back above keyhole detail. Cotton tail, ears, collar, cuffs & bow tie collar included, liquid jet black faux leather. Fabric: 85% nylon 15% spandex. Washing Instructions: Hand wash cold. No bleach. Hang dry.
---

Panty Rose & Milk Chocolate Long Stem Rose - $8.25 set
One size fits small to large. Clear floral wrap with ribbon. See photo below for panty style. We will substitute if your first color choice is out of stock. Requires cooler pack shipping for destinations 73+ degrees.
---

Panty Rose - $4.00 ea.
Cute tanga style panty rolled to resemble a rose with a long stem. One size fits small to large. We will substitute if your first color choice is not in stock.
---

Lock Me Up Thong with Real Mini Furry Handcuffs - $10.00 Sale! $8.25

Let your lover know exactly what you want with these fun and scandalous panties! Features embroidered "Lock me up" on front with contrast bow & detachable pink furry handcuff charm. Black mesh thong with ruffle. 100% polyester
---

Handcuffs Charm Thong - $10.00 Sale! $8.25

This lycra black thong had a functioning little set of silver metal handcuffs on the back that are sure to charm your favorite sex slave or police officer! One size fits most.
---

Unwrap Me
Satin Bow Teddy - $15.00 Sale! $13.99

Adorable one-piece satin bow teddy available in two sizes. Perfect for any occasion, not just Christmas. More adorable holiday undies and lingerie.
---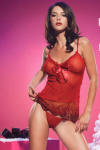 Red Sequined Set

This cute two piece red mesh slip-like cami with sequined scalloped trim and satin bow, includes a matching g-string and is available in SM and ML sizes.



Sexy Red Sets

Pictured left is a red set of a soft cup bra with a cute little sheer skirt, SML. Middle is a beautiful lace set of a stretch lace up bandeau top with lace side tie boy short, one size fits most. Pictured right is stretch lace two piece set that includes a shelf bra top with adjustable straps and low rise boy short, SML. All are very comfortable and very affordable and are of great quality.
---




Sexy Sets
Pictured left is a mesh bow with lace trim cami and matching g-string. The color under the black mesh is a silvery blue, one size fits most. Center is a sheer cami with two front side satin lace-ups with a floral appliqué and matching bow g-string, one size fits most. Pictured middle left is an adorable polka dot stretch mesh camisole with adjustable straps and matching thong with bow, SML sizes. Pictured far left is a black floral lace soft cup bra with matching thong set, one size fits most.
---

Love Struck Lingerie Set - $10.00 Sale! $8.25

This adorable stretchy top with string tie front and panty with flounce has shimmering red hearts and adorable ruffles. .One size fits most 2-14.
---

Peek-a-boo Top and Crotchless Bikini Lingerie Set - $23.99

This adorable stretchy string tie top with full back crotchless bikini panty has cute pink ruffles and pink heart print. One size fits most 2-14.
---

Pure Silk Kisses Cami Set - $20.00 Sale! $17.99

Pictured is a sexy front tie cami set with g-string for her. Affordable silk luxury and feels so sexy against your skin. One size fits most.
---


Stripe Tapestry Thong - $15.90

Trimmed with Venice edge and ribbon rose buds, elasticized sides. Come in black and pink or ivory and red. Very well crafted and high quality. Available in small/medium or large/ex-large.
---
Very pretty and suitable for the holidays or any time of the year. Very well crafted and high quality. One size fits most. Black or red.
---


Heart Pasties, Panty and Blindfold Set - $19.80

Satin eyemask with lace trim, a pair of sequined heart pasties with attached tassels and a ruched satin cheeky panty with tassle accent and lace heart cut-out back detail. One size fits most medium to small sizes.
---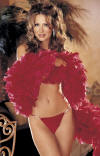 Velvet and Rhinestone Thong - $9.99

Stretch velvet thong with stretch rhinestone embellishment at waist and rear. Very pretty, very sexy. One size fits most. Boa not included.
---

Kitty Face Thong - $7.50

Poly interlock thong with kitty face. White or black. One size fits most.
---

Grab Bag Bikini or Thong- $3.49
Many colors and styles are available. The more you buy, the bigger variety you get. Guaranteed to be worth $6-12.00 each.
---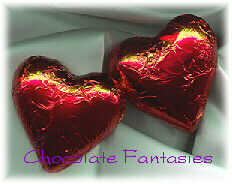 Sexy Panties or Thong with 2 Milk Chocolate Hearts - $17.99
Gift boxed with ribbon. Enter panty color in special instructions line in check out. Panty styles vary. Requires cooler pack for destinations 73+ degrees.
---

Bridal Chemise - $25.00 Sale! $23.99
From Coquette's Signature Line of lingerie is this two piece lace bridal chemise with front ribbon opening, criss cross straps in back and side slits. Includes bridal veil headband. White, one size fits most. Does not include g-string.
---

Military Issue Undies
Bring your lover to full attention with camouflage and lace crotchless panties for her or camouflage crotchless underpants for him. Get down to action and hit the fox hole or give your lover a full salute! Comfortable and stretchy, one size fits most. Win the war between the sexes. Makes a wonderful gift for you guy or gal in the military or for someone waiting for you to return home. Gift boxed.
---

Colt Boxer Briefs - $29.00 Sale! $19.50

Strip down to the basics, COLT BASICS. Look and feel like a COLT Man everyday. Comfortable and sexy! 80% Cotton, 20% Elastane. Elastic waistband. Available only in Large at this time. These were so popular at this sale price, we sold out fast! Approximate guide for waist size: Large 32" - 34"
---

Colt Boxer Briefs - $29.00 Sale! $19.50

The Male Power Zipper Short features a fitted slinky black body boxer brief cut and a noticeable front zipper pouch for easy access. The spandex nylon combo stretches in all the right places making this one hot go go short that's sure to draw attention. Available in L/XL size only.
---

Lace Leg Garter - $3.20
Cute garters for any occasion when you want to feel sexy. Contrasting color bow appliqué. Choose from several colors. If we're out of stock in what you select, we'll substitute it with next closest color.
---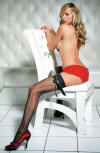 Fishnet Stockings with Satin Ribbon - $6.99

Lycra fishnets stockings with a beautiful woven satin ribbon. Stays up without garters. One size fits most, 90-160 lbs. 1 pair, black as shown, panties not included.
---

Sexy Bra and Panty Sets with Erotic Treats Club
Click Here for Panty of the Month Club Selections
3, 6 & 12 month subscriptions available (for guys and gals!).
---

Click here for our entire line of g-strings, bras, jocks, cock rings, hand cuffs, whips and more in three different styles and flavors.
---
Edible Crotchless Gummy Panties & Male Gummy Undies


---
Edible Undies, Bras & Sets for Men & Women




---
Tasty Tattoos, Edible Condoms, Chocolate & Tasty Pasties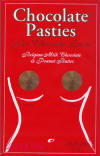 ---
Lingerie cannot be returned, all sales are final.
Click Here for Christmas Lingerie! Available year-round. Panty of the Month ClubNaughty Gift Bags & Wrap

Chocolate Roses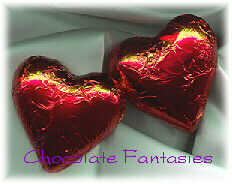 Click to see our Naughty Chocolates Order a Greeting Card