Click on photos for detail

Clone A Willy Candle Kit - $23.00 Sale! $19.85
This kit contains: Custom molding tube designed to accommodate virtually any penis, even the curved ones Specially timed molding gel. Warm, algae-based molding gel is specially timed so you're guaranteed to get a perfect mold of your erect willy! Cinnamon scented paraffin wax. Allows even the most intricate detail to be reproduced exactly as it appears on the original. Wooden skewer to poke the wick through your mold. See directions in kit for how this works. Candle wick. Easy to follow directions. Simple and fun step-by-step process allows anyone to create their own professional replica quickly and easily.
---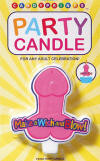 Party Candle - $4.50 ea.

The perfect adornment for that naughty party. Perfect for bachelorette parties and any gay male gathering! Make a wish and BLOW! The candle itself is 3.25" tall.
---

Mini Pecker Party Candles - $5.50 Sale! $4.49

5 pack of pink pecker party candles. Perfect for bachelorette parties.
---

Mini Pecker Party Candles - $8.00 Sale! $5.69
6 pecker candles, perfect for a cake or cupcakes, hot pink. Approx. 1.25 x 1.5" ea.
---

Rainbow Pecker Party Candles - $4.50 Sale! $3.69
5 pack of rainbow pecker party candles. Jasmine Scented. From Hott products.
---
Lingerie makes a perfect gift! Click Here
Gifts & Games for Couples & Brides To Be, Click Here