Click on photos for detail

Clone A Willy Candle Kit - $23.00 Sale! $19.85
This kit contains: Custom molding tube designed to accommodate virtually any penis, even the curved ones Specially timed molding gel. Warm, algae-based molding gel is specially timed so you're guaranteed to get a perfect mold of your erect willy! Cinnamon scented paraffin wax. Allows even the most intricate detail to be reproduced exactly as it appears on the original. Wooden skewer to poke the wick through your mold. See directions in kit for how this works. Candle wick. Easy to follow directions. Simple and fun step-by-step process allows anyone to create their own professional replica quickly and easily.
---

Pecker with Balls Candle - $12.50 Sale! $9.99
Highly detailed, just like a real penis. Delicious scents. Color shown is pink in jasmine scent. Approx. 7.5 inches. We will substitute with closest color if first choice is out of stock.
---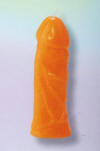 Straight Pecker Candle - $10.25 Sale! $8.99
Highly detailed with yummy scents. Color shown is orange in mango scent. Approx. 6 inches. We will substitute with closest color if first choice is out of stock.
---

Pecker Tea Light Candle Set - $4.50

3 candles with in three different colors.
---

Penis Tea Lights - $3.99 ea.
In penis shaped glass holder. 2.5 inches, assorted colors, let us choose for you.
---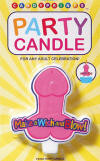 Party Candle - $4.50 ea.

The perfect adornment for that naughty party. Perfect for bachelorette parties and any gay male gathering! Make a wish and BLOW! The candle itself is 3.25" tall.
---

Mini Pecker Party Candles - $8.00 Sale! $6.49
6 pecker candles, perfect for a cake or cupcakes, hot pink. Approx. 1.25 x 1.5" ea.
---

Pecker Tea Light Holder - $6.00 Sale! $4.59
3 3//4 in red metal tea light holder. Includes one tea light candle.
---

Perky Penis Candles - $5.90

Four pretty pink penis candles with a shimmering glaze. 3 candles approximately 4 inches long.
---

Mini Peni Cake Candles - $8.20 Sale! $6.75
Easy to decorate with these 7 penis shaped mini candles in assorted colors on a wooden pick.
---

Bachelorette Candle - $7.00 Sale! $5.75

Make the girls last night out an unforgettable one with this Bachelorette party favor that says 'Bachelorette' with 6 peckers on top. 5 x 2 in. Cake not included.

---

Spunky Sperm Candles - $3.90
Four colorful squiggly sperm shaped candles in multi colors.
---
Lingerie makes a perfect gift! Click Here
Gifts & Games for Couples & Brides To Be, Click Here