Click on photos for detail
No wholesale on this page.

c Penis Cocktail Shaker - $12.00 Sale! $

9.65

The must-have COCKtail shaker for all of your naughty parties! Perfect for mixing martinis and all other shaken conCOCKtions! Includes standard size pink shaker base, strainer and lid.

---

Dicky Wine Charms - $12.00 Sale! $9.75
8 beaded wine charms with little peckers to snap onto your champagne or wine glass. All in a different color to help identify whose drink belongs to whom. These are really nice quality and will last a long time.
---

Bottle Opener - $9.40 Sale! $7.59
Sexy male form bottle opener in silver finish. Approx. 1" x 4".
---

Peni-Pecker Ice Chillers - $5.90 Sale! $4.75
6 stylish pink and black colored freezable coolers to keep your cock-tails cool!
---

Dicky Stirrers - $5.00 Sale! $3.99
4 pink and purple plastic stirrers shaped like super long dicks. Perfect your swizzing your cocktails or ice tea.
---

Sexy Stirrers - $5.00 Sale! $4.25
10 hard plastic in pink & purple colored stirrers with penis heads. Approx. 4.25".
---

Penis Drink Stirrers - $2.50 Sale! $1.25
Everyone will have fun stirring those drinks with these hilarious Penis Drink Stirrers. The penis drink stirrer for discriminating tastes. Sure to keep the laughs flowing.. Approx. 4.25".
---

Peni Stirs - $6.00 Sale! $4.49
6 purple red and yellow spoon ended stirrers great for cocktails, iced tea or root beer floats!
---

Pecker Stirrers - $5.50 Sale! $4.50
Willie-shaped hard plastic stirrers are great to stir up your drink and also fun to stir up lot's of embarrassment! Includes 8 stirrers in assorted colors. Comes bagged.
---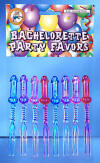 Pecker Party Picks - $5.00 Sale! $4.00
8 colored crystal-like plastic pecker cocktail picks.
---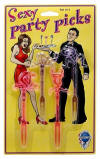 Sexy Party Picks - $3.75
4 pink and purple picks with with sexy couples in sexual positions on top. Approx. 5".
---

Penis Party Picks - $9.40 Sale! $7.49
6 Jelly peckers on hard plastic party picks, about 5 inches long. Reusable.
---

X-Rated Shots - $4.95

It's more than alcohol that give these 50 shot recipes that extra kick. The pages are filled with names that range from suggestive to down right triple-X-Rated! This miniature book is perfectly sized to bring to the bar with you and shock your bartender with a naughty request! A great gift for someone with a sense of humor and a taste for the strong stuff!

Hard cover mini book, 3.25 x 2.75 x .5, with dust jacket 127 pages, funny and fun full-color and black and white photos, by Running Press.
---


Martini Cheers Paper Tableware - $3.25 ea.
Martini and olive with 'Cheers' cocktail napkins 16 3 ply 9 7/8 x 8 7/8" or appetizer plates 7"
.
---
---
Back to Bachelorette Home Page
Party Tableware, Plates, Napkins and Packages
Mugs, Glasses, Can Toppers, Koozies & Cups
T-Shirts, Tank Tops and Sashes Tiaras, Veils, Hats and Bobblers
Pins, Masks, Jewelry, Ball & Chain, Chastity Belt, Etc.. Party Games & Pecker Piñatas
Party Kits, How-to Books & Photo Albums Tableware, Servingware & Drinkware
Lingerie makes a perfect gift! Click Here
Gifts & Games for Couples & Brides To Be, Click Here
-