No wholesale on this page. Like items may be substituted if your first choice is out of stock.

Penis Shaped Sippy Straws - $3.50 Sale! $2.85
Sip up sweet satisfaction! Pack contains 6 hard plastic sippy straws. Each straw has a shaft that is bent to make a penis outline. Your party girls will be begging to suck on one of these!
---

Penis Shaped Tissue Straws - $2.50 Sale! $2.25
Suck on this! Pack contains 6 plastic straws with accordion neck. Each straw has a tissue penis that wraps around the shaft of the straw. Every Bachelorette party guest needs some penis to suck on!
---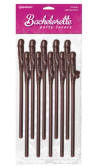 Chocolate Brown Dicky Sipping Straws - $7.00 Sale! $5.60
10 plastic reusable straws.
---

Glow in the Dark Dicky Sipping Straws - $7.50 Sale! $6.00
10 plastic reusable straws.
---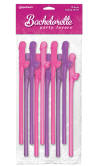 Pink & Purple Dicky Sipping Straws - $7.00 Sale! $5.69
10 plastic reusable straws.
---

Flesh Dicky Sipping Straws - $7.00 Sale! $5.69
Everyone at your adult party will want to suck dick when you put Dicky Sipping Straws in all the drinks. Shaped just like a little penis - balls included - these straws are funny and functional. They're perfect for your next adult party! Package includes 10 silly straws.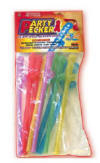 Party Pecker Straws - $5.40 Sale! $3.89

10 plastic reusable straws. Light colors in yellow, green, blue, red and purple. Straws shown above are a little sturdier than these. Package design may vary, bulk pack may be substituted.
---

Pink Party Pecker Straws - $7.25 Sale! $6.69

Make the giggle with these durable and vibrant pink penis straws. With these colorful straws your guests can wrap their lips around the little penis mouth piece and enjoy their favorite beverage at the same time. Pack of 10.
---

Playful Penis Party Straws - $9.00 Sale! $7.50

A girls night out or bachelorette party staple, Playful Party Straws are just as they sound, bright, noticeable drinking straws with a must-have penis shape. Suck up your cocktail of choice in true ladies night style. Package contains 10 Straws in pink and black.
---

Peni-Straws - $7.00 Sale! $6.25

8 durable, reusable, plastic straws in pink and purple. 7.5".
---

Glow in the Dark Naughty Pecker Straws - $7.00 Sale! $6.25

Vibrantly glowing straws in assorted colors! Hold under a bright light for 1-2 minutes, go into any dark room, and add a little naughtiness to all of your favorite beverages!. Pack of 8.
---

Big Pink Pecker Party Cup - $9.50 Sale! $7.60

Big Pink Party Pecker Cup from Hott Products. 16 oz of big pecker fun! Pecker head snap-top lid and straw. Food grade plastic. Dishwasher safe.
---

Dicky Chug - $10.10 Sale! $8.65

Big 20 ounce big sports bottle. Approx. 10". Available in red, purple and pink. If we're out of your first color choice we will substitute. Black, clear and blue available by special order, email us.
---
---
Back to Bachelorette Home Page
Party Tableware, Plates, Napkins and Packages Shot Glasses
Barware, Ice Cubes, Sculptures & Wine Charms
T-Shirts, Tank Tops and Sashes Tiaras, Veils, Hats and Bobblers
Pins, Masks, Jewelry, Ball & Chain, Chastity Belt, Etc.. Party Games & Pecker Piñatas
Party Kits, How-to Books & Photo Albums Tableware, Servingware & Drinkware
Lingerie makes a perfect gift! Click Here
Gifts & Games for Couples & Brides To Be, Click Here
Package quantities are approximate, product descriptions may change without notice.