Click on photos for detail
No wholesale on this page.


Jumbo Sucking Straws - $2.45

ea.

Approx. 11.5" long! Reusable hard plastic. Available in flesh, brown, hot pink and glow in the dark.

Penis Straws - $4.49
2 straws with flexible penis. Made of hard plastic. Colors vary per pack, let us choose for you.
---

Sippy Dick - $4.49
6 straws with jelly clear peckers on clear hard plastic straws. Reusable.
---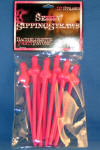 Sexxxy Sipping Straws - $9.99

8 hard plastic reusable straws. Wrap your lips around one of these! It's COCK-tail hour! Yes, a bit more expensive than the other straws, but are a good quality and a little bit bigger and beefier than the straws below. Choose from bright pink, flesh or brown colors.
---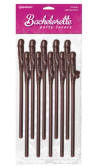 Chocolate Brown Dicky Sipping Straws - $7.00 Sale! $5.60
10 plastic reusable straws.
---

Glow in the Dark Dicky Sipping Straws - $7.50 Sale! $6.00
10 plastic reusable straws.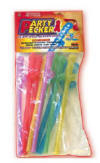 Party Pecker Straws - $4.39

10 plastic reusable straws. Light colors in yellow, green, blue, red and purple. Straws shown above are a little sturdier than these. Package design may vary, bulk pack may be substituted.
---

Playful Party Penis Straws - $6.50 Sale! $5.25

5 pink and 5 black sturdy reusable penis straws.
---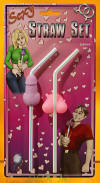 Sexy Straw Set - $3.99

Flexible straw set with soft penis and boobs.
---

Dicky Chug - $10.10 Sale! $8.65

Big 20 ounce big sports bottle. Approx. 10". Available in red, purple and pink. If we're out of your first color choice we will substitute. Black, clear and blue available by special order, email us.
---

Static Cling Drink Tags - $2.50

16 hilarious drink cling tags for any party! Whether you're single, not interest or totally shit faced, there's a tag in here for you.
---
---
Back to Bachelorette Home Page
Party Tableware, Plates, Napkins and Packages Shot Glasses
Barware, Ice Cubes, Sculptures & Wine Charms
T-Shirts, Tank Tops and Sashes Tiaras, Veils, Hats and Bobblers
Pins, Masks, Jewelry, Ball & Chain, Chastity Belt, Etc.. Party Games & Pecker Piñatas
Party Kits, How-to Books & Photo Albums Tableware, Servingware & Drinkware
Lingerie makes a perfect gift! Click Here
Gifts & Games for Couples & Brides To Be, Click Here
Package quantities are approximate, product descriptions may change without notice.