Click on photo for detail - No wholesale on this page.
Dink responsibly and have some fun while knowing your limits.

The 12 Drinking Games of Christmas - $9.99

... Because there's no better way to survive the holiday. 12 ames include such titles as Jigger Bells, Drink All Ye Thankful, Frosty the Alcoholic, Do You Drink What I Drink?, Silent Night, Holy Crap! and more. 3 - 10 players
---

Drinking Dreidels

- $8.00 Sale! $3.99

Plastic dreidels to spin and play a fun drinking game any time of the year.

Holiday Shooter - $6.99

4 shots to make your holidays happier! Whenever you feel down about the holidays, do a shot such as the Ginger Snap, Candy Cane, Mistletoe Kiss and X-mas Cookie. 3 oz glass.
---

Bad Girl Truth or Dare Party Pong - $8.35 Sale! $7.59

Today, the game of beer pong reigns supreme as the mother of all drinking games. If you are ready to take beer pong to an entirely new level and you're looking for something far more entertaining, then you need to play Bad Girl Truth or Dare Party Beer Pong from Ball and Chain. Each pong game offers you six different game play options. Contents: 6 Pong Balls & 32 Truth & Dare Activities! Perfect For: Hen Parties, Bachelorette Parties, Birthday Parties & Girl's Night Out!
---


Got Liquor Game - $20.95 Sale! $13.50
This colorful shot glass and drinking game set includes the shot glasses, game pieces, and game rules for four wildly fun drinking games. Two of the drinking games are party favorites: Speed Quarters & 3-Man. The third, Midnight Shooters, is a new game that's played in the dark, with a glow-in-the dark rubber ball! The coolest game though is Shot Glass Caps. This game is the tabletop version of the most popular game played on college campuses today. Includes 4 shot glasses, two bottle caps, one glow-in-the-dark rubber ball, and one die.
---

Drinker's Dice - $5.00
Announce the drink you want before you roll. If at any time a player rolls his announced drink, he will proceed to follow the directions on the Function die. Usually the player will not roll the announced drink. In this case he will add the numbers on both dice and keep a running total on subsequent rolls until he reaches 21 or more. Then he proceeds to follow the directions on the Functions die. If the player hits 21 exactly, he is entitled to a "double" and may drink any way he chooses.
---

Go Topless Drinking Game - $5.99 Sale! $4.50
The very fast-paced drinking game where players spin their tops, follow the instructions and pass them on before someone ends up with both tops. keep it movin' and try to be the last player remaining to go topless! plays like speed quarters but a lot more fun!
---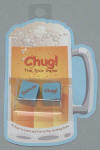 Chug! Dice Game - $4.50
Players take turns rolling both dice, carrying out various actions and assigning drinks. Combine the 'Who Drinks' and 'Action' details below to determine who drinks for each roll. Easy to learn and really fun to play!
---

Beer! - $5.75 Sale! $4.85
The hilarious game where you assign drinks, steal from each other, have blackouts and even an occasional drunken hookup. Beer! also tests your knowledge of crazy categories like: Types of Liquor, Cartoon Dogs and Excuses for Not Making Love. You win by holding the highest-valued drink cards at the end of the game. If you win, you get to assign LOTS of drinks to the other players. For 2-6 players, get 2 decks for 7-12 players.
---

Ice Shots - $4.25

Make shot glasses in your freezer for icy shots. Can be used to make flavored ice shots too.

X-Rated Shots - $4.95

It's more than alcohol that give these 50 shot recipes that extra kick. The pages are filled with names that range from suggestive to down right triple-X-Rated! This miniature book is perfectly sized to bring to the bar with you and shock your bartender with a naughty request! A great gift for someone with a sense of humor and a taste for the strong stuff!

Hard cover mini book, 3.25 x 2.75 x .5, with dust jacket 127 pages, funny and fun full-color and black and white photos, by Running Press.
---

Buy Me A Drink Hanging Glasses
Girly Shot Glasses, Bottle Openers, Booby Bong

Shots and Bongs for Ladies and Gay guys
---
Bachelorette or Gay Party Games
Bachelor or Lesbian Party Games
Click Here for Kama Sutra to Enhance Your Intimate Fun!
-