Click on pictures to enlarge
No wholesale on this page.

Gift Basket for Guys - $59.99 (Unbelievable $100 Retail!)

Great baskets for any occasion or any holiday when you need a sexy gift, bachelor party or a wedding gift. Baskets contain a variety of quality full sized and sample sized products, but may vary from what the picture shows. May contain XXX DVD, lube, stay hard cream, games, playing cards and other boy toys. Basket design may vary, contents will vary.
---
Perfecting Your Stroke Faux Book Masturbation Kit - $45.00 Sale! $40.99
The perfect kit to perfect your stroke...when you are using your 10-iron that is . Includes one clear TPE stroker, a One 576 sensations condom, one 10ml premium Body Glide Lubricant and one 5-speed reusable vibrating cock ring. All in a reusable magnetic book box no girlfriend will ever open. Drop Shipped, special order.
---

Verspanken Wavy - $45.00 Sale! $39.99

A new kind of home entertainment system! V

ėrSpanken is all about the pressure you like, it's about the temperature that feels right, and the texture that keeps you coming back for more. With the open-ended housing and snap closure, the user controls the pressure. Try the upward curl, rocking and swiveling or maybe the twist and since VėrSpanken is an open-ended toy, cleanup is a breeze! It's also great for couple play! Made of 100% recyclable materials, VėrSpanken, like all Big Teaze Toys, contains no latex, phthalates, lead or heavy metals.

Item measures 8.86" x 4.09" x 2.36"

. Tenga Rolling Head Cup - $18.00 Sale! $16.30

The joystick of pleasure.

Discover the sensuality of the rolling head. With the adoption of a flexible body, a range of stimuli to the penis head is now possible, including back and forth, right and left and rolling movements.

The first masturbator to include suction in an accordion style flexor for varied stroking in circles up and down and side to side right up to the head of the shaft. The top air vent can be covered with a fingertip or left open to vary the suction. Internally pre-lubricated soft jelly nubs massage the penis to climax. Disposable, but we've heard you can use a condom or pull out to get several uses out of it. We get amazing reviews and feedback on this product.
---

Helping Head Ultimate BJ Helper - $8.40 Sale! $6.75

Doc Johnson's new GoodHead Helping Head is a revolutionary 2" mini stroker specifically designed for handheld use to heighten the sensations and pleasure during fellatio. Soft on the outside, and with stimulating massage beads on the inside, this stretchy stroker is made from our clear ultra-realistic UR3 material, for the most lifelike experience in the world. Turn GoodHead into great head tonight! Proudly made in America. Non-phthalate TPE with Antibacterial Sil-A-Gel formula. Circumference: 5", Length: 2", Diameter: 2".
---

Pocket Pleasures Masturbator - $10.00 Sale! $7.25

Comfortable for any size, waterproof, easy to clean. This is a great bargain for a simple and high quality pocket toy. Available in three colors. If your first color choice is out of stock, we'll substitute for another.
---

Big Honcho - $68.40 Sale! $54.79

Named #1 toy of the year by 'Talk Sex with Sue Johanson,' the Big Honcho Masturbation Device is made of a soft and comfortable TPR material. When engaged in that next hot masturbation session utilize some of the features of the Big Honcho; such as the thick, tight opening that will feel nice along your shaft or the curved inner chamber with advanced suction that will massage your penis with every stroke. Ribbed for super size grip, incredibly detailed. Special order, drop shipped separately from our distributor. Spread Me Masturbator - $62.00 Sale! $49.99

The Blush X5 Spread Me Masturbator. There is nothing more erotic than watching your partner spread her lips for you as you prepare to enter her and give her a pounding she will never forget. Enter her tight hot pussy as she fingers her clit and climax together. The life-sized and realistically detailed Spread Me has both vaginal and anal entries and ribbed love tunnels for an extreme variety of erotic experiences. Made of unique X5 material, Spread Me has a realistic feel like that of the human body. It is super soft, elastic, and quickly warms to body temperature. X5 is also super durable and tear resistant, so Spread Me is ready for anything. Vaginal and anal entry. Length: 8". Width: 6". Weight: 37.4 ounces.
---

Jackers Squeezer Flesh - $55.50 Sale! $44.99
From NS Novelties comes the Jackers Squeezer. A true dual density masturbator featuring a firm outer shell over a super soft inner core. Hug and caress your member in ways you only thought possible. Pleasure and bliss are within reach with Jackers Super Masturbators. Each inner core has been uniquely designed to provide maximum sensation. Enjoy the moment, alone or with a partner. Made of Phthalate free, body-safe TPR.
---

Hot Lips Masturbator - $15.99 Sale! $13.99
Soft, inviting material that warms quickly to your body temperature makes this masturbation sleeve a pleasure to use. Hot Lips welcome you while the grasping tunnel provides erotic sensations heightened by the raised nodules lining the inside. This is a shorter sleeve with a bit of stretch to it, which is great for travel and business trips. Immersing the sleeve in warm water before use will make this toy even more pleasurable, as will your favorite lube!
---


Serika Tight Pussy Masturbator - $8.00 Sale! $5.99
Serika's Tight Pussy Anime Masturbator from California Exotic Novelties is a soft, tight, and stretchy masturbator featuring a textured pleasure chamber with a closed end for enhanced suction. Made from Pure Skin and TPR, Serika is maintenance free. Illustrated in Japan, this vibrant, eye-catching packaging is perfect for any anime lover. 4"x 2"/ 10 cm x 5 cm.
---


Miho Deep Throat Masturbator - $8.00 Sale! $5.99
Miho's Deep Throat Anime Masturbator from California Exotic Novelties is a soft, tight, and stretchy masturbator featuring a sensually ribbed shaft with open end for easy cleaning. Made from Pure Skin and TPR, Miho is maintenance free. Illustrated in Japan, this vibrant, eye-catching packaging is perfect for anime lovers. 4.5"x 2" / 11 cm x 5 cm.
---

Basic Essentials Tight Pussy Masturbator - $7.90 Sale! $5.69
Want high quality at the best price... then the Basic Essentials Tight Pussy is the masturbator for you. This masturbator is super-stretchy, features a ribbed shaft for extra pleasure, and is made of hygienically superior TPR material. Use water-based lube for best results.
---


Heart On Luv Ring - $6.00 Sale $3.95

Prolong pleasure and maintain firm erections with this nubby Heart-On love ring. Made from our super-stretchy Mega-stretch material, this heart-shaped helper puts a clamp on performance problems and makes pleasure last. Say goodbye to those embarrassing midway letdowns that ruin intimate encounters and say hello to long-lasting hard-ons! Material: Jelly. Unstretched diameter: 1 inch. Max stretched diam.: 2 1/2 inches. Width: 1 1/2 inches, length: 1 3/4 inches. Includes free Moist Lube sample.
---

Hot Lips Cock Ring - $8.99
Quite possibly the cutest penis ring ever invented, the new pouting Hot Lips cock ring is perfect for those men looking to pucker up their pecker. Produced using soft stretchy body safe material, the Hot Lips c- ring is easy to fit and accommodates most sizes. Hot Lips includes a disposable micro vibrator providing trembling sensations when worn (batteries included). Lip smacking good fun for couples who love play.
---

Vibrating Cock Ring, Asst. Colors - $6.00 Sale! $5.29
Maintain firm erections and prolong ejaculation with this Vibrating Cock Ring. This super-stretchy ring has a powerful micro stimulator that can be used to tickle her clit or balls resulting in extra explosive orgasms and long-lasting fun for the both of you. Made of silicone. Phthalate Free, Vibrates, Water Based Lubricant Recommended. Package design and brand may vary.
---

Super Stretch Cock Rings - $2.99 Sale! $1.49 Set of 2
For stronger erections. Don't let the price or size fool you, they really work! Super mega stretch rings in assorted colors and styles. Let us choose for you.
---

Teaser Enhancement Ring - $5.00 Sale $2.99
Erection enhancer with strategically placed stainless steel ball & pleasure nub Unscented TPR. Stimulates your partner by rubbing that special area! Super soft and stretchable and clear, specially placed love bead brings on a rousing stimulation. Helps maintain a firm erection. Pleasurable for both partners. 3".
---

Bloomy - $45.90 Sale $39.99
Fun Factory's Bloomy was designed for versatility. This non gender specific toy's unique shape can be used anally, as a prostate massager, Kegel exerciser or as the perfect vaginal dildo, allowing for simultaneous clitoral stimulation. With its sleek and pleasing look the Bloomy allows you to be as creative as you desire in the bedroom. Made from medical grade silicone it's extremely pleasant to the touch, feeling velvety soft with ample flexibility. The Bloomy's handy finger loop provides confidence when maneuvering the toy both during insertion and removal. 5.5 inches. Made in Germany from non porous medical grade silicone, latex and phthalate free, hypo allergenic, odorless. As with all silicone toys, do not use silicone lube.

---


Make Your Own Dildo Kit

Totally easy, you even get two chances to make it right! Insert your penis and testicles into the quick-form molding gel. Hold them there for 60-90 seconds. Remove and fill the mold with the liquid rubber. Let it dry and pull out your own usable, life-size rubber dildo or vibrator. Guys, this is great to give to your lover, especially as a going away gift if you have to leave town or are in the military on a long tour of duty. Never let your lover feel lonely when you can leave something exactly like you left behind! Standard kit is on sale from $101.20 now $79.00. Vibrating kit is on sale from $109.25 now $85.50. Made in the USA.
---
Clone A Willy Kits - Original with Vibe, Brown Skin with Vibe, Hot Pink, Black, Glow in the Dark, Plaster, Candle, Soap and Chocolate - All on Sale!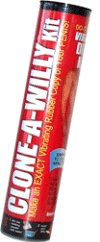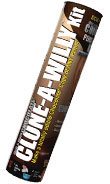 From the the makers of 'Make Your Own Dildo Kit.' Simple to do in minutes, just add water! Use Hollywood's latest cutting edge technology to immortalize yourself just like the stars to. This is a great gift for someone going on a long vacation, work or on military duty to leave a little (or big) something behind. Includes everything you need to make an exact rubber copy of yourself or your lover. Create a life size dildo from any penis, contains no latex, completely safe and non-allergenic, usable with any lube, fun to do, amazing detail. The difference between the kit above and this one is that you cannot replicate the testicles, only the penis. Also available in glow in the dark. Make your willy out of chocolate with the middle kit, extra chocolate to make more is available. The manufacturer recommends keeping water in your original mold if you'd like to mold your willy more than once. Make sure is is completely dry before molding more chocolate in it. Click here for Willy Candle Kit.
---

Clone A Willy Plaster Statue Kit - $18.99 Sale! $16.49

Become an instant sculptor, immortalize any man like a Greek god with an exact plaster sculpture of his willy! Click here for Willy Candle Kit.
---