Click on photos for detail - No wholesale on this page.

Romantic Rendezvous Love Kit - $35.00 Sale! $31.99

The Booty Parlor Romantic Rendezvous LoveKit has all the necessities for a seductive experience with your favorite playmate. This lusty collection will have you teasing and pleasing all night long. Here's what's included and the sexy steps to build your ultimate Romantic Rendezvous: Step 1: Bathe in Naughty Bubbles (2fl. oz) Booty Parlor's Naughty Bubbles is no ordinary bubble bath. This liquid sin is formulated to lather you in naughtiness for a deeply indulgent bubble soak. What happens next is entirely up to you... Oh, my... Step 2: Massage with Don't Stop Massage Oil (2fl. oz) With an intoxicating scent of plums, raspberries, jasmine, cedar and sandalwood, Don't Stop Massage Oil is an experience in sensual pleasure. Don't Stop 'til you get enough. Oh, yes...Step 3: Play with Add Magic Lubricant (2fl. oz) This discreet delicacy is designed to compliment your sexiest moments. The odorless, flavorless, water-based formula is body-friendly, silky and long lasting. Add Magic. Add Sexy. Oh la, la... Step 4: Cuddle! You plus me = zzzz.
---

Fantasy Forever Sampler Pack

- $18.00 Sale! $14.50

Make your fantasies come true with this seductive assortment of pleasure potions. Everything you need to turn an ordinary night into a hot night of passion is included in this sampler pack. Kit includes 1.25 oz. bottle of Chocolate Fantasy Body Topping, Body Heat Warming Massage Lotion, Liquid Love Warming Massage Lotion, and Mini Moist Lubricant. Flavor assortment will vary.
---

With Love Rose Scented Silk Rose Petals - $9.50 Sale! $7.59

Create a romantic mood with silky soft red petals that are great for foreplay! Arousing rose scent will ignite passion and set a romantic scene that your lover will never forget.
---

Aphrodisiac Infused Scented Rose Petals - $9.00 Sale! $7.25

Create a seductive ambience with DONA by JO. Silky rose petals to spice up your sensual experience. Sprinkle in the bedroom or create a playful trail to romance. Lovely to scent your lingerie. .35 oz.
---

Romance Essentials Kit - $7.99

Beautiful orgaza bag filled with 12 silk rose petals and an assortment of items for an evening of pleasure: Strawberry flavored condom, Chocolate Fantasy chocolate body paint, Body Heat, Liquid Love, Rain Flavored Lube and fruity body paint.
---

Rose Petals Romance Kit - $5.99

Red

orgaza bag filled with 25 red and shimmer silk rose petals with tea light candle and body meat warming oil.
---

The Love Fortune Cookie - $10.00 Sale! $8.95

Deliver one of the best fortunes of all time: LOVE. This kit invites you to crack open your heart and offer its message in a way that will never go stale. Reveal the truth of your emotion with the charming fortune cookie container and 88-page book, including over 150 love fortunes to tear out and tuck individually into the container. With this romantic gesture, your love fortune is sure to come true. Beautifully boxed, 3.25" x 3" x 2".
---

Key to an Open Heart Key Ring - $7.99 ea.

Beautiful key ring that says "You hold the key to an open heart." Available in silver tone finish with diamond rhinestones or gold tone finish with red rhinestones. Center heart has a cloisonné-type finish. Packaged in an organza bag ready for gift-giving.
---

Massage Oils, Lotions and Gift Packs
---

Kama Sutra Books
---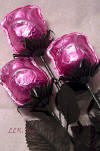 Long Stemmed Milk Chocolate Roses
---