Click on photos for detail - No wholesale on this page.

Rose Petal Explosion - $15.95 Sale! $10.50

Life is sweet! Good things come in small packages and these scented rose petals are no exception. 100 petals per box. Each petal measures approx. 2.5 in. Leave a trail of these little beauties to the bedroom, sprinkle all over the sheets and light the candles.
---

Fantasy Suite Gift Set - $250.00 Sale! $1

99.99

This is romance, right out of the movies! This ultra luxurious gift box comes complete with two black satin bathrobes, two champagne flutes, champagne bucket, candles, 1000 rose petals, massage oil, bubble bath inside an organza bag. All you need to do is show up with your SELF and a bottle of champagne. This is a splendid gift to send to honeymooners. Special order, please allow a few extra days for delivery.
---

Naughty Weekender - $30.00 Sale! $26.99

Get away from it all! Or stay home with this kit and just feel like you did! Both fun and sexy, it comes with a 1oz tube of massage oil, two red tea lights, sexy activity spinner-card game, a .25oz stimulation balm, mini feather tickler and edible body balm. Beautifully packaged, perfect to entice your lover or give as a wedding or anniversary gift.
---

A Bed of Roses - $16.50 Sale! $15.30

Throughout history the rose has been used to symbolize the expression of love. The seductive qualities of the aroma and beauty are irresistible. A Bed of Roses includes over 150 red re-useable scented silk rose petals, 4 white tea candles, an invitation and romance guide. This makes a great wedding shower or bachelorette gift.

More romantic rose kits, click here.
---

Romance Essentials Kit - $7.99

Beautiful orgaza bag filled with 12 silk rose petals and an assortment of items for an evening of pleasure: Strawberry flavored condom, Chocolate Fantasy chocolate body paint, Body Heat, Liquid Love, Rain Flavored Lube and fruity body paint.
---

Rose Petals Romance Kit - $5.99

Red

orgaza bag filled with 25 red and shimmer silk rose petals with tea light candle and body meat warming oil.
---

Romantic Rendezvous Game - $31.05 Sale! $27.95
Extend your relationship foundation so you can grow closer, laugh and delve into the joys and delights of being together. 120 different activities include a board game, card game with 54 Romance Cards, instructions, two tokens and a die, but the board nor card games is dependent upon the other. The board game adds bonuses and interesting twists.
---

10 Nights of Passion - $10.35 Sale! $8.99
This witty, pocket-size guide to improving one's lust life provides plenty of inspiration for lovers. Packaged in a beautiful little embossed box of props: 3 tube of "Motion Lotion," a soft, tickly brush, a length of satin, and 10 double-sided cards with sexy suggestions for couples. More Adult Games
---

Massage Oils, Lotions and Gift Packs
---

Kama Sutra Books
---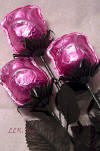 Long Stemmed Milk Chocolate Roses
---