Click on pictures to enlarge
---

Free Gift with Order!

One of the items in the gift baskets below or something similar will be included with your order for every $100.00 you spend in adult toys and adult themed gifts and candy. Just have a subtotal of $100 and click to add the free gift to your cart. Choose items for a man or a woman.
---
Gift Baskets - $100.00 Sale! $59.99 ea.
Great baskets for any occasion or any holiday when you need a sexy gift, even bachelorette or bachelor parties or a wedding gift. Baskets contain a variety of quality full sized and sample sized products, but may vary from what the picture shows. Women's basket has items such as a vibe, warming lube games and several other fun quality products. Guys may have XXX DVD, lube, stay hard cream, games, playing cards and other boy toys. Basket design may vary.
---
Fantasy Dance Pole - $180.00 Super Sale! $139.99

Turn your bedroom or living room into your very own private dance stage with the Fetish Fantasy Series Fantasy Dance Pole. You're the star and your room's the stage for you to act out your most erotic dance pole fantasies! With the Fantasy Pole set up in the comfort of your home, you can perform intimate, one-on-one private striptease sessions for you and your lover to enjoy. You'll both love how easy-to-use the pole is, and with practice, you'll be moving seductively and twirling around the pole in no time. The pole's height is fully adjustable and includes everything you need to instantly transform any room in your home into your private fantasy dance studio. Put on an incredible performance, try new moves and enjoy new positions you never thought you could pull off. The possibilities are only limited by your imagination and your inhibitions! Includes: Pole Mounting Bracket 4 Screws 4 Washers. Now you can practice those same sexy dance moves in the privacy of your own home and enjoy a great cardio workout at the same time. Your lover will be amazed and aroused at how easy it is to seductively tease and please just like the pros. Go ahead, give it a twirl and explore your fetish fantasies!
---

Home Lap Dancing Kit - $33.00 Sale! $19.99

Drive your lover wild with desire! This fun kit contains 3 lap dance vouchers, a garter, body glitter, home lap dance booklet, lap dance g-string, and fishnet stockings.
---

Screaming O Essentials Kit - $38.00 Sale! $35.99

Take any day or Valentine's Day deep into the night with The Screaming O Valentine Essentials Kit a complete collection of couples toy mini vibes vibrating rings and romance tools that make every man her own Casanova. The RingO erection band gives him a boost in the bedroom for long-lasting more satisfying sex while the best selling Screaming O Plus gives him essential erection enhancement with a powerful motor to stimulate her. The popuar Big O2 vibrating erection ring offers him the same boost but with two separate motors for extra-powerful pleasure for him and her. Enjoy the Soft-Touch Bullet with three speeds and one pulse pattern for titillating foreplay and the LingO vibrating tongue ring to turn him into the ultimate cunning linguist. And with a pack of Climax Gloss orgasm enhancing creme for her and two sweet after sex mints the Screaming O Essentials Kit has everything couples need for a night to remember. See our

Holiday version here

and

Valentine version here

.
---

VibrO Panty with Wireless Remote - $48.50 Sale! $38.99

Experience hands free pleasure with the Vibro Panty 10 Function Remote Control from Nasstoys. The vibrating bikini underwear has a bullet strategically placed for clit stimulation. Pleasure yourself or let your partner take control with the remote control with 10 functions. Waterproof, phthalates free, and RoHS compliant. Panty made of 95% cotton and 5% lycra. Remote made of ABS. Bullet length: 2.5", diameter: 2.625". Batteries included: remote - 1 27A, bullet - 3 LR44.
---


Clone A Pussy Kits

Make an exact rubber copy of any vagina! This easy to do kit includes everything you'll need to make an incredibly detailed, life-size rubber copy of the outer portion of any vagina from your own home! A great gift for the new bride to give her beloved or for your lover who is deployed overseas. It is perfect for bachelor and bachelorette parties, anniversaries, Valentine's day, birthdays or any time you need a sexy one of a kind gift. It is safe and easy to use. The Clone A Pussy Kit Includes specially timed molding gel, custom molding container, patented "Liquid Skin" amazing "Liquid Rubber" and easy to follow directions. Completely safe, non -toxic, non-allergenic (contains no latex ) An erotic experience that lasts a lifetime. Package design may vary. Click the brown/chocolate clone a pussy to buy. Edible chocolate kit with extra chocolate is available too.
---
Silicone Bendable Rose Vibrator - $40.00 Sale!
$29.98 ea.

With a pure 100% silicone waterproof rose bud and a silicone bendable stem, this is the first flower that truly gives back! The highly polished push button with ABS controls, multi function base, sends the powerful motor located at the tip of the bud screaming at all levels of delight! Not only is it completely waterproof, but it bends and holds any position… So if you're in the market for a serious massager, or looking for that perfect gift, the Silicone Bendable Rose is the choice for you! Requires 2 AA batteries not included.

Red Hearts Glass Dildo - $36.00 Sale! $29.99

The raised red hearts up and down the shaft is sure to put you or that special someone in a romantic mood, while the glass will leave them feeling frisky! Giving you plenty of potential for fun, you can use this versatile Red Hearts Glass Dildo for everything from massaging your G Spot to safe anal penetration. To get the most out of your glass sex toy, you may want to dabble in temperature play. All you have to do is run hot or cold water over the Red Hearts Glass Dildo. When it's warm, the glass sex toy feels more natural during masturbation and doubles as a very relaxing massager. If the glass sex toy is cool, you can use it on your nipples and clit just like an ice cube -- without messy melting! This Red Hearts Glass Dildo measures 7 inches long from top to bottom, and the shaft itself is 1 inch wide. Since this sex toy is made from glass, it's hygienically superior to dildos made from jelly or rubber. Glass toys are hypoallergenic so anyone can use them, and it's non-porous to keep dust or hair from clinging to it. And you'll also get a festive storage bag. The Red Hearts Glass Dildo is compatible with any kind of sex lube. Just wash it in warm, soapy water, but you can also throw it in the dishwasher or a pot of boiling water.
---

Fun Factory Little Meany Vibe - $64.000 Sale! $39.99

Small and mean, the distinctive structure stimulates to the climax

.

An affectionate companion should always be by your side, even while you are traveling. Fun Factory mini VIBES combine all the features of their larger companions in a practical, small size to hide in any bag. The Meany Mini Vibe can be used to arouse your nipples, penis, clitoris or whatever sensitive area you desire. Three tingling vibration modes can be used for vaginal or anal stimulation. Easy to use push buttons, innovative technology, powerful, quiet and durable motor, three vibration modes, s

plash-proof, s

leeve made of 100% medical-grade Silicone,. Use only water-based lubricant with your miniVIBE, requires 2 AAA batteries (not included). Measures 5"x1.25". Detailed operating instructions and a sample of Fun Factory's Toyfluid water-based lubricant are included with your miniVIBE.
---

Deluxe Rabbit Pearl - $50.00 Sale $40.00

This rabbit has its controls located at the base of the vibe, eliminating the wires that get in the way of your fun-filled fantasy. With the push of a button, you will find yourself hopping with joy from the smooth, sensual motion of the rotating penis head and spinning pleasure pearls. Enjoy the jelly-soft, bulbous head twist, twirl, and reverse directions instantly while the magical pearls massage and throb deep inside. The shaft is 5½" X 1½". The high-powered vibrating bunny ears titillate the clitoris that will get you hopping in no time at all! There are separate push-button controls for vibration and rotation and requires three AA size batteries, not included. The power is at your fingertips so you have total control of your orgasmic encounter every time.
---

6.5" Neo-Gel Dong with Suction Cup- $20.00 Sale! $16.99

7.5" nicely detailed jelly dong with a beautiful thick head. Very pretty colors, easy to clean. We'll substitute a similar color if out of stock on your first color choice.
---

7.5" Neo-Gel Dong - $25.99 Sale! $17.99

7.5" nicely detailed jelly dong with a beautiful thick head. Very pretty colors, easy to clean. We'll substitute a similar color if out of stock on your first color choice.
---

Shotgun Shell Variable Speed Bullet Vibe - $15.00 Sale! $9.99

This shotgun-shell-shaped vibe is number one with a bullet! Just place your finger on the metal plated trigger to fire round after round of pleasure from its gently ribbed surface. Body-safe and waterproof, this is hands-down the most pleasing ammunition available. Whether it penetrates fully or just grazes your skin, it's sure to get you fired up every time. No need to bite the bullet, take one to the body instead! Takes 1 AAA battery, not included.
---


Waterproof Bullet Vibes - $6.00 Sale! $4.99

This little one speed waterproof gem is one of our top selling vibrators. Although just over 2" long, you put the powerful vibrations right where you want them. Whether it's for clitoral stimulation or a neck massage, the bullet has as many uses as you need it to. The Power Bullet is small and discreet so you can take it anywhere. It is waterproof for fun in and out of the shower. Batteries included. If your first color choice is not in stock, we'll substitute with a close color.
---

Go Vibe - $7.88 Sale! $5.95

It's waterproof, compact, quiet and discreet. Just twist and go go, oh! What else could you ask for in a mini vibe that you can take anywhere with you? 4 inches. Uses 1 AA battery not included. Color will be substituted if your first choise is out of stock.
---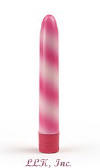 Swirl Waterproof Vibe -

$19.50 Sale! $16.99

Waterproof, multi-speed, 6 inch vibe. Takes 2 AA batteries, not included. We will substitute color if your first choice is out of stock.
---

Waterproof Delights Vibe - $27.50 Sale $21.00
One of our best selling and most popular waterproof vibe! 6 1/2 inches, very powerful, multispeed. Takes AA Batteries, not included. Available in blue.
---

Glow in the Dark Vibe - $19.90 Sale $15.99
7 1/2 inches, variable speed. Takes AA Batteries, not included.
---

Jelly Chocolate Dream - $28.00 Sale $22.40
This multi speed vibrator satisfies and fills all your needs. Rotate the bottom to increase the pulsating action from slow to vibrant. Life like skin and pliable and contorts to all inner areas. 8 inch multi-speed vibe - Takes AA Batteries, not included.
---

Waterproof 7 Function Remote Control Egg - $77.62 Sale $64.95

Powerful remote egg with nylon retrieval cord and discreet and convenient one touch remote that looks like a car alarm. Seven HyperSonic functions of vibration pulsation and escalation. Explore unlimited possibilities. Perfect couples companion. Fun for use in and out of the water. Comes with batteries for remote and egg. Covered with really cool and fabulous feeling black rubber cote. This is expensive, but really worth the price for priceless fun and multiple orgasms!
---

Remote Control Waterproof Bullet - $24.15 Sale $20.99
He has his remote, now you can have yours! Enjoy powerful vibrations without having to worry about messy cords and wires! Just point the remote, flip the switch and indulge yourself in wonderful wireless bliss. The discreet waterproof bullet is quiet enough to take with you wherever you go, but powerful enough to deliver incredible vibrations. Use it by itself or with your favorite sleeve or accessory. Tune into a whole new kind of satisfaction! Batteries included.
---

Teaser Enhancement

Ring - $5.00 Sale $2.99

Erection enhancer with strategically placed stainless steel ball & pleasure nub Unscented TPR. Stimulates your partner by rubbing that special area! Super soft and stretchable and clear, specially placed love bead brings on a rousing stimulation. Helps maintain a firm erection. Pleasurable for both partners. 3".
---

Bloomy Vibe for Him or Her - $45.90 Sale $39.99
Fun Factory's Bloomy was designed for versatility. This non gender specific toy's unique shape can be used anally, as a prostate massager, Kegel exerciser or as the perfect vaginal dildo, allowing for simultaneous clitoral stimulation. With its sleek and pleasing look the Bloomy allows you to be as creative as you desire in the bedroom. Made from medical grade silicone it's extremely pleasant to the touch, feeling velvety soft with ample flexibility. The Bloomy's handy finger loop provides confidence when maneuvering the toy both during insertion and removal. 5.5 inches. Made in Germany from non porous medical grade silicone, latex and phthalate free, hypo allergenic, odorless. As with all silicone toys, do not use silicone lube.

---

Neo Gel Medium Butt Plug - $11.50 Sale $6.49
Jelly soft and durable, medium sized, not for beginners, but you can ease into it. Length with base is approx. 5.5 in. Assorted colors, let us choose for you if your first choice is out of stock.
---

Elan Quatre Boule Anal Beads - $12.00 Sale $7.99

Wonderful anal beads that are fun for women or men. Sliding in each ball and out gives tons of pleasure and fun! 7 1/2" long, flexible and soft. Includes retrieval cord. Waterproof and pthalate free.
---

Lover's Anal Beads - $9.50 Sale $7.99
Graduated love bead for an exciting and sensuous encounter. Free samples of toy cleaner and Anal Eaze cherry flavor lube. Available in black or pink/purple.
---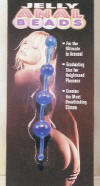 Jelly Anal Beads - $5.50 Sale $5.00
Great bead size for beginners. Flexible jelly material, easy to clean. Available in pink or purple, we will substitute color if one is out of stock.
---

Shane's World SoftTouch Stimulators - $19.84 Sale $15.99 ea.

These soft, cuddly characters are power packed! The SoftTouch™ removable sleeve is coupled with a powerful micro stimulator. You won't believe how soft, but powerful it is! Batteries included.
---

Bullet Buddies - $15.00 Sale $10.99 ea.
Super-powered 2.5" mini-vibrators! Choose from Pink Bunny, Blue Dolphin, Purple Bear, Green Worm or Red Monkey – the Bullet Buddies come in a color and an animal for every personality! First, it's their cute faces and then the adorable packaging, but it's the super-powered bullet that will make them your new BBF (Best Buddy Forever)! One thing is for sure, she'll never be lonely when you stuff her stocking with Buddy! We will substitute if your first choice is out of stock, we only get mixed displays.
---

Produce Pals Big Banana - $14.50 Sale $11.99

This darling little market marvel is sure to make you smile. The keenly disguised banana is so discreet, you can take it anywhere. Tease your sweet spots with the soft tip and your tight spots with the firm tipt. Requires 1 AA battery, not included.
---



Candy Vibes -

$10.00 Sale! $7.49

Fun 5 inch vibes. Better than any Finger (Butter Finger), Alotta Joy (Almond Joy), Crotch (Crunch Bar), Now and Again (Now and Later), 100 Orgasms ($100,000 Bar), Quicky Lay (Milky Way), Junior Mini (Junior Mints), Wonder Vibe (Wonder Bread) & Tingles (Pringles). Plastic snap pouch. 1 AA battery, not included. We will substitute if any of your choices are out of stock.
---

4Play Vibe - $10.00 Sale! $7.49 ea.
This

little is hysterical! Play now, play often. A small one speed pocket vibe in funny case! What eBay shopping woman can resist? Makes a great stocking stuffer, bahelorette party or novelty gift

4 1/2 inches takes 1 AA batteries no included.
---

I Rub My Duckie Waterproof Vibrating Duck - Original Size and Travel Size

It's not the beak . . . It's the motion! Strong, but quiet motor. Waterproof personal massager includes AA batteries and waterproof on/off switch No will ever know it's anything BUT a harmless bathtub toy. We carry the standard size and travel size ducks. We love the smaller ducks that we sell as they're powerful and compact and really really cute!
---

Rose Bud Feather Tickler - $8.51 Sale! $7.40
This is one of the most beautiful ticklers we've ever seen. It's so soft and looks just like a real long stemmed rose. Even the sepal and leaves are made of feathers. Use with Kama Sutra Honey Dust
---

Ostrich Feather Tickler - $8.05 Sale! $6.65 ea.

Gorgeous, soft feathers on a 15 1/2 inch fiberglass wand. Sexy fantasy game ideas are included. You may also apply edible body powders with this!
---

Fluffer Feather Tickler - $8.05 Sale! $7.50 ea.

Fun and fluffy soft feathers on a 15 1/2 inch fiberglass wand. Sexy fantasy game ideas are included. You may also apply edible body powders with this!
---

Fantasy Sex Swing - $172.50 Sale! $149.99

Enjoy all the positions of the Kama Sutra without being an Olympic athlete! The Spinning Sex Swing is an incredible piece of hardware that no couple should be without! Consisting of a heavily padded back support, butt support and stirrups, the spinning sex swing gives you the additional freedom of 360 degree rotation! Use your imagination or look at the photos on the box. You'll never run out of uses for this incredible swing! Comes with a spring, instruction booklet and all hardware for mounting. Swing holds up to 200 lbs. with the spring in place or 400 lbs without the spring. Drop shipped from our distributor.
---

Before After AntibacterialToy Cleaner - $7.80 Sale! $6.25
Before and After Toy Cleaner is bactericidal.. Designed with an exclusive anti-bacterial formulation. Made with bacteria fighting agents to assure fresh clean toy use every time. Perfect for all types of toys including realistic materials. Freshens adult toys with light sweet fragrance. Mist before and after toy cleaner onto toy and wipe dry. No rinsing necessary. 4 oz spray bottle.
---


Click Here for All Clone a Willy &
Make Your Own Dildo Kits
---

Click for SuperStrap, Retraints, Etc.

Christmas & Candy Cane Vibes & Dildoes
s
Toys for Guys