Click on photos for detail - no wholesale on this page.

Kama Sutra Sexy Sampler - $15.00 Sale! $13.99

A sensual collection to arouse and inspire romance. This Sexy Sampler kit is created for adventurous lovers to experience the many pleasures of Kama Sutra's most popular products. Sexy Sampler includes Intensifying Plus Warming gel, Oil Of Love in Raspberry Kiss, Massage Oil in Coconut Pineapple, Pleasure Balm in Spearmint and Pleasure Potion lube. .25 fl oz. ea.
---

Kama Sutra Massage Candles - $19.00 Sale! $14.99

Kama Sutra's massage candle melts from candle wax to massage oil in a heartbeat, gliding onto your lover's skin for a sensual, smooth-as-silk massage. Warm, fragrant and wonderfully emollient, it's formulated with a proprietary blend of skin-conditioning coconut oil, shea butter and vitamin E.

Tropical Nights: A vibrant mix of exotic plumeria, island jasmine and African freesia infused with luscious notes of fresh peaches and juicy, ripe pineapple. Mediterranean Almond: A refreshing mix of almond and cherries is accented with hints of bergamot and clove. Deep Ocean: A magical blend of orchid, jasmine petals, and sheer woods come together in this clean, crisp, scent. Island Passion: Ripe melons infused with grapes and luscious red berries are accented with violets and raspberry blossoms.
---

Impulse Intensifying Gel - $25.00 Sale! $19.99
P
inpoint the pulse of female arousal. Tucked inside its silken drawstring pouch' this discreet applicator filled with Kama Sutra's Intensifying Gel® for Women has the power to stimulate' intensify and satisfy. Pinpointing the body's female pleasure center' gentle pulses arouse desire while a special formulation of herbal extracts that encourages and enhances sensual response. Impulse slips easily into a purse or pocket' inconspicuously awaiting your next romantic encounter.
---

EroSticK - $16.00 Sale! $12.99

For pleasures far beyond kissing. Kama Sutra is giving new meaning to the words "pucker up." Introducing, EroSticK, a deliciously new addition to oral enhancement. Apply EroSticK to your lips and let your sensual kisses wander, seductively, anywhere across your lover's body. This clear, non-staining lip polish is specially formulated to accentuate your pout with a luminous shine, a deliciously kissable flavor and exciting sensations.
---

Lip Fetish - $16.00 Sale! $12.89

Kama Sutra is giving a new meaning to the words pucker up. Introducing Lip Fetish, a deliciously new addition to oral enhancement. Apply Wild Raspberry, Sweet Strawberry or Cool Mint Lip Fetish to your lips and indulge your lover in a torrent of oral pleasures. Rich berry in color adds a sexy pout just ready for wild kisses.. and more.

---

Strawberry Sweet Heart Box - $35.00 Sale! $27.99

Introducing the limited edition "Sweet Heart Box" with an assortment of body treats for lovers it's the perfect gift for your sweetheart! Includes: 2 oz strawberry dreams honey dust, feather applicator, 1.8 oz strawberry crème body soufflé, 2 oz white chocolate body paint and body paintbrush. Heart box dimensions: 7" x 5" x 2 1/2"
---

Chocolate Sweet Heart Box - $35.00 Sale! $27.99

Introducing the limited edition "Sweet Heart Box" with an assortment of body treats for lovers it's the perfect gift for your sweetheart! Includes: 2 oz chocolate dreams honey dust, feather applicator, 1.8 oz chocolate crème body soufflé, 2 oz chocolate body paint and body paintbrush. Heart box dimensions: 7" x 5" x 2 1/2"
---

Getaway Kit with Travel Bag - $35.00 Sale! $27.99
Introducing the ideal travel companion. This collection of Kama Sutra products fits nicely into your luggage and carry-on and are perfectly sized under 3.4 oz to meet the flight regulatory standards. You'll have everything you need tucked away within this soft, reusable carrier case, complete with a Kama Sutra logo zipper! Includes: French Vanilla Crème Body Soufflé, Vanilla Crème Oil of Love, Sweet Honeysuckle Honey Dust with a feather applicator, Love Liquid water-based Lubricant and a Romance Candle.
---

Petite Kama Sutra Products
Kama Sutra's best of their best products in petite containers. The perfect little something to spark a romantic evening, slip into a Christmas stocking, or for travel use.
---

Sweet Celebration Box - $75.00 Clearance Sale! $55.99
The Perfect Beginning to Everlasting Romance. You chose each other for life; commemorate that choice with a celebration of your love. Each Sweet Celebration Box is designed to transport your senses, allowing you to revel in the sweetness that comes from finding that one perfect partner in life. This gift set includes a special message card. Set contains full sizes of: Vanilla Crème Oil of Love, French Vanilla Crème Body Soufflé, Pleasure Garden Massage Oil, Sweet Honeysuckle Boudoir Puff in a pure white satin bag and lightly fragranced rose petals encased in an organza bag.
** see bottom of page
---


Tantalizing Treasure Troves - $40.00 Sale! $31.99 ea.
This gift tin embraces the delights of a single, luscious flavor. It includes three deliciously edible offerings: Sweet, soft, sensuously smooth Honey Dust body powder with its own feather applicator, skin-tingling, taste-tantalizing Oil of Love, and gently numbing Pleasure Balm to help him preserve his powers into the night. The taste of Raspberry Kiss is borrowed from ripe pleasures plucked from the berry patch. The nostalgic Tangerines & Cream combination is taken straight off the old neighborhood ice cream truck. Strawberries and Champagne is a newly added combination that is reminiscent of plump ripe strawberries engulfed in the bubbly! Package design may vary.
---


The Weekender Sets - $25.00 Sale! $19.99 ea.
Try a little of many pleasures with this take-along sampler. Sized to slip discreetly into a purse or pocket, The Original Set includes delicate portions of The Original Oil of Love, Pleasure Balm, Wild Clove and Mint Tree Luxury Bathing Gels and Honey Dust with a feather applicator. Strawberry Set contains travel sized portions of: Strawberry Dreams Oil of Love, Strawberry Dreams Stimulating Pleasure Balm, Strawberry Dreams Honey Dust and feather applicator, Sweet Almond Massage Oil and Love Liquid sensual lubricant.
---

Cupid's Collection - $26.00 Sale! $20.49
This exploratory gift set allows lovers to discover the pleasure of the unknown. Gently tie the satin blindfold around the eyes to remove the sense of sight and allow your sense of touch, taste, smell and hearing to heighten and guide you through the pleasure of your love. Featured in this playful gift set are: Red satin blindfold, Strawberry Honey dust with feather tickler and lightly scented silk rose petals to create your romantic setting.
---

Chocolate Body Paint in 3 Delicious Flavors! - $12.00 Sale! $9.99
For those who have been tempted by their creative side, indulge your artistic muse with this decadently rich body paint. Includes 2oz of the most popular milk chocolate flavor, rich caramel or dark chocolate raspberry accompanied with a supple brush for sensual body design.
---

Body Soufflé - $19.00 Sale! $15.25
A luscious, kissable light soufflé for a sensual massage. 7.5 oz jar, available in four flavorful scents. Water based. Body soufflé is replacing Kama Sutra's massage creams.
---

Naturals Massage Oils - $18.00 Sale! $14.49
Massage Oils made with natural ingredients. This sexy new edition to the popular Massage Oil collection offers the essence of fresh fruit with a special blend of body oils to create the perfect treatment for body and spirit. Kama Sutra Naturals offer the very best of nature's gifts to connect you with your lover, while being kind to body, mind and spirit. 8 ounces.
---

Aromatic Massage Therapy Kit - $28.00 Sale! $22.49
Don't even think about leaving for a weekend getaway without at least one or two of these take-along massage oils. And don't forget about them when you're at home, either. The perfect way to sample several blends of Kama Sutra's proprietary blends of pure essential oils, each is infused with skin-smoothing emollients and nourishing Vitamin E. Set includes Serenity, Pleasure Garden, Sweet Almond, Healing Blend and Soaring Spirit.
---

Aromatic Massage Oils - $17.00 Sale! $13.59
Ease away the stresses of the day and grow closer to a loving state of mind. These light, non-greasy oils have been specially designed to glide on smoothly and guide a lover's hands in the sensual art of massage. Contains emollients and Vitamin E, 8 ounces. Package design may vary.
---


Oils of Love - $16.00 Sale! $14.40
Rub a few drops of this magical potion on whatever spots desire draws you to, then blow gently to release its powers. Slippery to the touch, warm to the skin and irresistible to the tongue, these delicately scented oils draw your lips with their sultry taste and arouse your lover with a tingly glow. Water based oil washes away easily. 4 ounces, 7 flavors. They are discontinuing Cappuccino and we have a few left.
---

Pleasure Balm - $14.00 Sale! $11.25
Love's pleasures are far too enjoyable to be rushed. Designed to make lovemaking last longer, this uniquely formulated emollient for men imparts a tingling, slightly numbing sensation that helps him preserve his powers into the night, also invites the lips with a cool mint flavor. 1.5 oz. Make love 'til the morning light. All flavors are condom compatible except the Original Mint. Packaging is changing over to tube for some flavors.
---

Original Pleasure Balm Desensitizing Gel - $15.00 Sale! $11.99
New Packaging! This used to be called Pleasure Balm Mint and now it is in a tube as Desensitizing Gel. Same properties you love from the old version in a jar, now in a convenient handy 1.7 oz. tube with flip cap bottom. This gel is gently numbing for men that heightens and prolongs sensual pleasure with a cool minty scent. Tastes like a peppermint stick!
---

Original Love Liquid $14.00 Sale! $11.20
Love Liquid - Newly designed with the sensitive tissues of a woman in mind, this silky water-based lubricant is formulated without sugars. Smooth and slippery, this unscented moisturizing lubricant is a love making essential. 3.4 oz bottle or new 1.7 oz petite size offered in the petites section further above. 3.4 oz bottle. Prices listed are 20-25% off retail.
---

Kama Sutra Pleasure Potion Silicone Lube $17.00 Sale! $13.60
Pleasure Potion - This new long lasting silicone based lubricant provides unlimited hours of passion. Silky and never sticky. Pleasure Potion is the standard others will be measured by. Great for water play, not safe to use with silicone toys. 3.4 oz bottle. Prices listed are 20-25% off retail.
---

Kama Sutra Divine Nectars Lubricants - $13.00 Sale! $10.49
Divine Nectars are kissable, water-based, fruit flavored lubricants that add an exotic touch to every intimate encounter and create a sexy, slippery-smooth sensation for both of you to enjoy. 5 ounce bottle
---

Kama Sutra Treasure of the Sea Luxury Bathing Kit - $23.00 Sale! $18.49
Transform a simple bath into an ocean of azure blue, body and soul imbued with the distant scent of the sea. After basking together in this wondrous blend of natures own sea salts, sea weeds and organic moisturizers, you'll emerge with skin softened, body nourished and soul reawakened to the possibilities of love. 20 ounces of bath salts, a shell scoop and a loofah sponge.**
---

Kama Sutra Luxury Bathing Gels - $16.00 Sale! $12.80 ea.

Two new bath gels from Kama Sutra to excite your senses and leave you sensuously clean. New scents available in Tangy Citrus: A fresh and zesty bathing gel that sweetly nourishes your skin. Ocean Blue: A rejuvenating bathing gel that awakens the body with a fresh ocean scent. Mint Tree cools and tingles Turn the simple ritual of a bath or shower into a sensual interlude with these indulgent bathing gels. Cleansing, refreshing and silky smooth, their rich satiny lathers impart an enticing fragrance and subtle sensation to your skin. Created from a blend of ten naturally moisturizing vegetable oils and Vitamin E-rich wheat germ. 17.5 ounce pump bottle.
---

Honey Dust with Feather - $24.00 Sale! $18.99

This sensuous edible power is made with pure, natural honey. Dust it on yourself and your lover with the soft feather applicator, leaving a silky-soft glow, a delicate fragrance and an irresistible taste. Satin pouch filled with 8 ounces of powder and a feather applicator tickles more than your imagination. Surprise every kiss with a taste of nature's sweetest gift.
---

Ostrich Feather Tickler - $7.50 Sale! $6.99 ea.

Gorgeous, soft feathers on a 15 1/2 inch fiberglass wand. Sexy fantasy game ideas are included. You may also apply edible body powders with this!
---

Fluffer Feather Tickler - $8.50 Sale! $7.89 ea.

Fun and fluffy soft feathers on a 15 1/2 inch fiberglass wand. Sexy fantasy game ideas are included. You may also apply edible body powders with this!
---

Rose Bud Feather Tickler - $8.50 Sale! $7.49

This is one of the most beautiful ticklers we've ever seen. It's so soft and looks just like a real long stemmed rose. Even the sepal and leaves are made of feathers. Use with Kama Sutra Honey Dust
---
Great Books & Games to Accompany Your Kama Sutra Products

A Kit for Lovers - Great Sex - $7.95
Lovemaking techniques to blow your partner's mind. This little kit includes the miniature book; Lover Guide to Kama Sutra (that we sell tons of), and delicious strawberry body dust and cute feather applicator. What we really like about this kit is that when the customer flips it open there is a window into the box that shows you everything that is included. Great visual presentation.
---

Kama Sutra Coupons - $5.95
These 22 gorgeous coupons in shades of pinks and purples will have you and your partner locked in sexy positions from the exotic book of pleasure. Each coupon features a position and then explains in easy to follow directions, how to carry it out. Photos of straight black and white couples are featured throughout.
---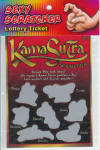 Kama Sutra Scratcher - $2.00

Beware: Hot week ahead! One mystery Kama Sutra position a day. Scratch and discover together!
---

Kama Sutra The Game - $25.99 Sale! $23.50

Includes playing board, 56 activity and position cards, a die, 2 playing pieces and instructions. A very creative and enlightening game!
---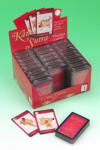 Kama Sutra Cards - $8.98 ea.
A pack of full color playing cards. 54 cards with a different sexual position on each. Explicit photos of couples engaging in loving positions. These cards are for sex education purposes.
---

Bedside Kama Sutra Kit - $29.95
Unleash the erotic mysteries of Kama Sutra - and experience sublime sex. This gorgeous boxed kit includes: a Kama Sutra pocket book with detailed descriptions of 24 erotic poses, a 60-minute mood music CD to arouse the senses, and a Kama Sutra Bedtime Story Book with sexy stories to share. 8.5 x 8 x 1.25 By Linda Sonntag.
---

More Kama Sutra and Tantric Loving Books & DVDs
---

Massage & More Adult Books & Instruction
---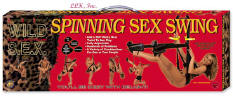 Sex Swings & Toys to Complete Your Kama Sutra Loving Experience
---
**Some items such as the Earthly Delights or the Kama Sutra Book are very heavy and will add on a few extra dollars in shipping charges if delivery is to the east coast. Your emailed order confirmation will reflect the shipping charges, not the shopping cart price. Please call or email if you have any questions.
More Books Order a Greeting Card
Click Here for Adult Holiday Gifts - Chocolates