Click on pictures to enlarge - No wholesale on this page.

Hide A Vibe Rabbit - $30.00 - Sale! $24.99

An original way to hide your sex toy! Multi-speed 5" vibrator inside.
---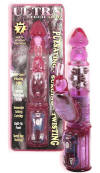 Ultra Tech 5000 Rabbit - $68.00 Sale $59.99
7 multi-orgasmic functions. Multi-speed pulsating rabbit clit stimulator. Twisting metal bead action on the 4.5 inch shaft. Removable battery cartridge, light-up panel, nice feeling pink jelly material. This vibe pulses, twists and surges! Similar to the Rabbit Pearl, but has much stronger vibes and functions. Tip to bottom is 9.5". Purple is sometimes available, but we usually have pink in stock. Takes four AA batteries, not included. Dropped shipped from our distributor. Express shipping surcharge if ordered with other items from our web site.
---

Rabbit Key Ring Vibe - $9.20 Sale $7.99
Soft jelly head with flickering ear stimulators. Discreet yet powerful. Includes batteries. We'll choose a color for you, chances are it will be light purple.
---

Waterproof Wabbit Vibe - $27.60 Sale $23.99

Variable speeds, deep satisfying pleaure, use wet or dry, for shower bath or spa. Maximum clitoral stimulation as the wabbit's ears wiggle for ultimate pleasure! Takes two AA batteries. Dropped shipped from our distributor. Express shipping surcharge if ordered with other items from our web site.
---

Rockin' Rabbit - $31.62 Sale $27.50

Made of soft rubber, the rabbit fits snug at the base of your man's penis, effectively helping maintain an erection. This alone will add extra ordinary stimulation to both during love-making. Add one or both vibrating bullets to either end of the rabbit for clitoral, anal or testicular stimulation that can be controlled by each individual battery pack. Use the bullets on any erogenous zone. It's like three toys in one! Uses 4 AA batteries (2 for each unit), not included.
---

Waterproof Wireless Bunny - $29.78 Sale $25.90

Flickering bunny ears for clitoral stimulations, jelly soft power-packed 4 inch vibrating penis, comfortable and funny adjustable wait and thigh straps. Easy to use controller for multi-speed vibrations, no wires, self contained, waterproof and unscented. 4 free batteries, two for the bunny two to spare! Wear it under clothing or while lounging around - hands free!
---

Deluxe Rabbit Pearl - $50.00 Super Sale! $42.99

This rabbit has its controls located at the base of the vibe, eliminating the wires that get in the way of your fun-filled fantasy. With the push of a button, you will find yourself hopping with joy from the smooth, sensual motion of the rotating penis head and spinning pleasure pearls. Enjoy the jelly-soft, bulbous head twist, twirl, and reverse directions instantly while the magical pearls massage and throb deep inside. The shaft is 5½" X 1½". The high-powered vibrating bunny ears titillate the clitoris that will get you hopping in no time at all! There are separate push-button controls for vibration and rotation and requires three AA size batteries, not included. The power is at your fingertips so you have total control of your orgasmic encounter every time.
---

Impulse Kit with Bunny Arouser - $54.63 Sale $47.50
You won't believe it until you try it. The power pack has five patterns of pulsation, vibration and escalation. You can plug the power pack in or use AA batteries. And the powerful multi-function bullet has an incredibly soft and pliable removable bunny sleeve.
---

iVibe Rabbit - $107.00 Sale $80.99
Doc Johnson has seen the future. The i-Vibe Rabbit pleases your every animal instinct. Surrounded by luminescent colors, stimulating beads line the soft ribbed shaft, squirming and turning to meet your every desire as the bunny nibbles at your quivering clit. Available in four great colors. Batteries not included. Made of pvc, 5" - 6" long, 1" - 1.5" wide. Dropped shipped from our distributor. Express shipping surcharge if ordered with other items from our web site.
---