Click on photos for detail
No wholesale on this page

The Cookie Sutra - $9.20 Sale! $7.95

Clever and very cute take on the Kama Sutra with illustrations of the positions demonstrated by two adventurous, and very happy, gingerbread cookies! Even has a recipe to make your own cookies. Spice up your holidays with this little book.

Soft cover - 60 pages, adorable color photos
---

X-Rated Shots - $5.50 Sale! $4.95
It's more than alcohol that give these 50 shot recipes that extra kick. The pages are filled with names that range from suggestive to down right triple-X-Rated! This miniature book is perfectly sized to bring to the bar with you and shock your bartender with a naughty request! A great gift for someone with a sense of humor and a taste for the strong stuff!
Hard cover mini book, 3.25 x 2.75 x .5, with dust jacket 127 pages, funny and fun full-color and black and white photos, by Running Press.
---

10 Secrets to Great Sex - $5.69 Sale! $4.95

This little book is in the new, popular, miniature size. It is filled with ten great tips for great sex and a few non-explicit photographs of people in sexy situations (visually not x-rated). Itís a great stocking stuffer idea, mini-valentine or add-on sale item. Make up your own company kit and include one

Hardcover 127 pages, 3.25 x 2.75 x .5
---

Supersex - $23.000 Sale! $20.00

An unequaled sex guide that's packed with erotic advice for every man and woman who want super sex. A super-hot sex manual for a new generation, Supersex is a stylish, witty, and cutting-edge look at sex in the new millennium. From the internationally best-selling author Tracey Cox, this beautifully illustrated guide highlights the author's unique ability to write about sex in an honest and entertaining way. From the basics of the male and female anatomy to hard-hitting information on sexual techniques, this book covers-and uncovers-it all. Tracey Cox is an internationally acclaimed sex expert and author of the best selling Hot Sex and Hot Relationships.

Softcover 191 pages, 9.25 x 7.25 x .5, beautiful photos, by Tracey Cox.
---

Sex Games - $20.64 Sale! $17.95
Dare to be wild. Learn techniques to tease, stimulate and arouse your partner. Unleash your fantasies with dressing-up games and sexy role play. Discover the delights of erotic toys and aphrodisiac foods. Inflame your imagination with party games to play with friends. Be adventurous by making love in unusual and illicit places, even trios and couples sharing.
Hard paper cover - 143 pages, beautiful full-color photos, by Linda Sonntag. Personally, our favorite book so far.
---

Erotic Massage - $17.25 Sale! $14.99
Enrich your love making through the power of touch. Fully illustrated with vibrant, erotic photography and clear instructions for the most stimulating techniques. From using massage for communication and playful, exploratory games to the most erotic touch techniques of all time. Erotic massage as foreplay, in love making and as a way of enriching and intensifying orgasm. Specific techniques to relax and refresh the body and mind and the hottest strokes to intensify and prolong your love making.
Paper Cover - 160 pages by Anne Hooper
---

Sensational Sex - $10.29 Sale! $8.95
Awaken the senses and experience memorable, sensation sex through a simple awareness of the power of sight, taste, smell, touch and hearing. Appreciate the taste of your lover's skin, massage erogenous zones and share fantasies to achieve emotional fulfillment.
Small Hard Paper Cover - 128 pages by Linda Sonntag
---

Pocket Sex Guide - $11.39 Sale! $9.95
All aspects of foreplay and intercourse are covered, detailed photos.
Small Hardcover - 95 pages by Anne Hooper
---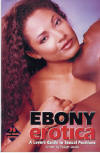 Ebony Erotica - $11.38 Sale! $9.90
A lover's guide to sexual postions. 76 Full color and sexy photos!
Softcover - 66 pages by Roger Jacobs for California Exotic Novelties, Inc.
---