Click on photos for detail
No wholesale on this page

The Cookie Sutra - $9.20 Sale! $7.95

Clever and very cute take on the Kama Sutra with illustrations of the positions demonstrated by two adventurous, and very happy, gingerbread cookies! Even has a recipe to make your own cookies. Spice up your holidays with this little book.

Soft cover - 60 pages, adorable color photos
---

Boyfriend Training Flash Cards - $14.95

Not all boyfriends come dating-ready--so give your guy a little basic training with these humorous flash cards! They make it so easy to teach him those all-important relationship dos-and-don'ts: on one side's an icon that captures the card's subject, and on the other is advice on how to handle the problem. And they cover the essentials in a way he'll instantly grasp, from putting the toilet seat down to opening doors to (gasp!) handing over the remote control. Give him guidance on what's appropriate conversation (telling you how great you look, for example), acceptable mannerisms, and proper dress. In no time at all, he'll wow your family, friends, co-workers...and YOU. 32 page booklet and 50 training cards in a great flip top gift box.

---

The Housewife's Guide to Practical Striptease - $9.50 Sale! $8.50
An entertaining, informative manual for women of all shapes and sizes! It's about time somebody wrote a 'How to' for the practical striptease. Everything you ever wanted to know and a few things you didn'! Tips and insider secrets from real Strippers!
Soft cover - 60 pages, fun black and white drawings, by Miyoko Fujimori.
---

Strip to It CD - $16.00 Sale! $14.00
More than music, use your computer to access written and video content. Learn dance moves plus other tips and techniques. 50 Min of Music, 40 Min of Video.
---


Naughty Cakes - $22.49 Sale! $19.95 ea.
Step-by-step recipes for 19 fabulous, fun and risqué cakes in Naughty Cakes and 20 R- and X-rated cakes featured in Xtra Naughty Cakes. With tasty designs that are guaranteed to liven up any occasion, Naughty Cakes is the perfect cake decorating book for anyone with a sense of humor. Flamboyant and sexy, these fondant cakes will appeal to both men and women. Each decorating method carefully explained with step-by step instructions and photographs. Detailed basic information on cakes and icings suitable for beginners. Hard cover with dust jacket 80 pages, beautiful full-color photos, by Debbie Brown.
---

X-Rated Shots - $5.50 Sale! $4.95
It's more than alcohol that give these 50 shot recipes that extra kick. The pages are filled with names that range from suggestive to down right triple-X-Rated! This miniature book is perfectly sized to bring to the bar with you and shock your bartender with a naughty request! A great gift for someone with a sense of humor and a taste for the strong stuff!
Hard cover mini book, 3.25 x 2.75 x .5, with dust jacket 127 pages, funny and fun full-color and black and white photos, by Running Press.
---

Hot Sex - How to Do It - $15.00 Sale! $13.95

Practical, down to earth, explicit and fun, this is a must-have sex and relationship book for every woman and man. Easy to follow guide that cuts straight to the nitty gritty. Tips and techniques that work.

Soft Cover, 388 pages, 8.25 x 5.25 x 1"
---

10 Secrets to Great Sex - $5.69 Sale! $4.95

This little book is in the new, popular, miniature size. It is filled with ten great tips for great sex and a few non-explicit photographs of people in sexy situations (visually not x-rated). It's a great stocking stuffer idea, mini-valentine or add-on sale item. Make up your own company kit and include one

Hardcover 127 pages, 3.25 x 2.75 x .5
---

Supersex - $23.000 Sale! $20.00

An unequaled sex guide that's packed with erotic advice for every man and woman who want super sex. A super-hot sex manual for a new generation, Supersex is a stylish, witty, and cutting-edge look at sex in the new millennium. From the internationally best-selling author Tracey Cox, this beautifully illustrated guide highlights the author's unique ability to write about sex in an honest and entertaining way. From the basics of the male and female anatomy to hard-hitting information on sexual techniques, this book covers-and uncovers-it all. Tracey Cox is an internationally acclaimed sex expert and author of the best selling Hot Sex and Hot Relationships.

Softcover 191 pages, 9.25 x 7.25 x .5, beautiful photos, by Tracey Cox.
---

Superhotsex Deck- $23.00 Sale! $20.00
Loaded with lwicked real-life fantasies and tricks for your fingers, tongue, and other parts, superhotsex is a crash course in how to take your sex life from dull to daring-safely and sensibly. supersex taught you the basics, now superhotsex picks up the pace and takes things a little further, with more advanced techniques, risqué topics, and even sexier pictures to send you into sensory overdrive! Tracey Cox is the bestselling author of superflirt and supersex. An expert on sex and relationships, she has written for a wide range of newspapers and popular magazines, including Glamour, and Maxim, and is the star of HBO's Sex Inspectors.
Softcover 192 pages, beautiful full-color photos, by Tracey Cox.
---

Supersex Deck - $18.00 Sale! $15.95
There's sex. There's good sex. And there's supersex. Hang on to your headboard – things are going to get very, very hot – when you try your hand at Supersex Deck, the sexiest, most entertaining game in town. Let your imagination run wild with new, sensuous moves and titillating tricks, tips and techniques. Make your sex life the real deal with these erotic suits: Fabulous Foreplay, Sure-thing Sex Positions, Sex Tricks and Get Kinky. Let the games begin . . .
Box of 52 Cards and Instructions, 4 x 6"", beautiful super hot photos, by Tracey Cox.
---

Sex Games - $20.64 Sale! $17.95
Dare to be wild. Learn techniques to tease, stimulate and arouse your partner. Unleash your fantasies with dressing-up games and sexy role play. Discover the delights of erotic toys and aphrodisiac foods. Inflame your imagination with party games to play with friends. Be adventurous by making love in unusual and illicit places, even trios and couples sharing.
Hard paper cover - 143 pages, beautiful full-color photos, by Linda Sonntag. Personally, our favorite book so far.
---

Erotic Massage - $17.25 Sale! $14.99
Enrich your love making through the power of touch. Fully illustrated with vibrant, erotic photography and clear instructions for the most stimulating techniques. From using massage for communication and playful, exploratory games to the most erotic touch techniques of all time. Erotic massage as foreplay, in love making and as a way of enriching and intensifying orgasm. Specific techniques to relax and refresh the body and mind and the hottest strokes to intensify and prolong your love making.
Paper Cover - 160 pages by Anne Hooper
---

Tickle Your Fancy - $18.34 Sale! $14.99
Tickle Your Fancy: A Woman's Guide To Sexual Self-Pleasure. Come enjoy all the breathtaking passion you have coming to you: stress-melting touches that satisfy your soul, followed by wave after wave of heart-racing orgasms like you've never imagined! Between these two covers, author Sadie Allison shows you over 30 sensual touches and buzzes for a lifetime of ohmygod! orgasms. And with over 60 tasteful guiding illustrations, you'll instantly awaken the magic awaiting you in your hands. Come discover new ways to caress yourself to deep, satisfying G-spot climaxes as well as glorious, life-affirming clitoral orgasms in this playful self-pleasure guide for women…and curious men! "I love it! It's about time women learned the ins and outs of solitary sex." —TV's Talk Sex with Sue Johanson. 2002 Independent Publisher award winner.
Softcover - 89 pages, by Sadie Allison
---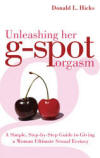 Unleashing Her G-Spot Orgasm - $14.89 Sale! $12.95
Clear, straightforward and to the point, Unleashing Her G-Spot Orgasm helps couples take their sex life to a higher level. This slim volume explains the truth about the G-spot, female ejaculations and blended orgasms. But more importantly, it presents a fail-proof plan for achieving G-spot orgasms. The author's carefully detailed steps teach a woman's partner how to arouse the G-spot's awesome power in order to give her the ultimate in female pleasure. These proven techniques are amazingly simple and presented in a manner anyone can understand. Drawing on the latest findings of world-reknowned sex researchers, Unleashing Her G-Spot Orgasm offers a unique combination of clinical fact and everyday application. It answers all the reader's questions about the G-spot, from why the G-Spot exists to how to self-stimulate it.
Softcover - 132 pages, by Donald L Hicks
---

The Ultimate Guide to Oral Sex - $12.59 Sale! $10.95
How to give a man mind-blowing pleasure. Women want to know if they are good at giving a man oral sex, and how to give more pleasure through this intimate act. Men want to know how to ask for this most favored activity. Oral sex is intricate, playful and can give any couple more satisfaction in their lovemaking and in their relationship. Includes 50 tips, tricks and techniques that any woman can master and that will add pleasure and love to this sexiest gift you can give your man. Hot secrets for the ambitious lover, To swallow or not, find the male g-spot, techniques to make him bigger, simultaneous pleasure, if your baby goes baby-soft, and more. Photos are black and white and risqué, but not x-rated.
Softcover - 191 pages, by Jane Merrill
---

Tickle His Pickle - $18.34 Sale! $14.99
So many penises—and no instruction manual. Till now. Sexy and inspiring…honest and provocative…candid and exciting, Tickle His Pickle informs, entertains and reveals the penis secrets women long to know. This unique penis-lovin' guide is bursting with: Over 50 sizzling techniques to master oral lovemaking. Dozens more ways to turn your hands into living sex toys. How to fulfill his biggest erotic fantasies (so he'll beg for more). More than 100 fun, tasteful, titillating illustrations. Secret touching tips for the "Male G-Spot" & other pleasure zones. The world's first penis instruction manual for women who want to rekindle passion, reawaken romance and revive red-hot sex. Includes more than 50 hand and oral love-making techniques with 100 titillating illustrations to guide your learning process.
Softcover - 160 pages, by Sadie Allison
---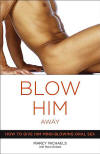 Blow Him Away - $12.07 Sale! $9.95
How to give him mind-blowing oral sex. It's nothing to be ashamed of. When it comes to performing oral sex, most people fall somewhere between fumbling and clueless. But now, in this book, you'll find practical, easy -to-master techniques that will give you the confidence and skills you need to become an expert in the delicate art of fellatio. Inside you'll find tasteful line drawings of lovers and anatomy and lots to read.
Softcover - 154 pages, by Marcy Michaels with Marie DeSalle
---

The Lowdown on Going Down - $12.07 Sale! $9.95
How to give her mind-blowing oral sex. It's nothing to be ashamed of. When it comes to performing oral sex, most people fall somewhere between fumbling and clueless. But now, in this book, you'll find practical, easy -to-master techniques that will give you the confidence and skills you need to become an expert in the delicate art of cunnilingus. Inside you'll find tasteful line drawings of lovers and anatomy and lots to read.
Softcover - 144 pages, by Marcy Michaels with Marie DeSalle
---

Sensational Sex - $10.29 Sale! $8.95
Awaken the senses and experience memorable, sensation sex through a simple awareness of the power of sight, taste, smell, touch and hearing. Appreciate the taste of your lover's skin, massage erogenous zones and share fantasies to achieve emotional fulfillment.
Small Hard Paper Cover - 128 pages by Linda Sonntag
---

Kama Sutra of Erotic Massage - $22.98 Sale! $19.99
The Tantric art of touch. Explore this book and discover an exotic world of touch and pleasure for both men and women.
Softcover - 80 pages, Kenneth Ray Stuffs, Ph.D.
---

Pocket Sex Guide - $11.39 Sale! $9.95
All aspects of foreplay and intercourse are covered, detailed photos.
Small Hardcover - 95 pages by Anne Hooper
---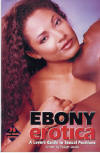 Ebony Erotica - $11.38 Sale! $9.90
A lover's guide to sexual postions. 76 Full color and sexy photos!
Softcover - 66 pages by Roger Jacobs for California Exotic Novelties, Inc.
---

Erotic Massage - The Touch of Love Book & DVD
This popular massage video by Kenneth Ray Stubbs was designed to complement the step-by-step massage instruction book. Kenneth Ray Stubbs, Ph.D., is a certified sexologist and masseur, and author of many books. The book is an illustrated, step-by-step manual for couples. Softcover - 112 pages, black and white illustrations.
---
Instructional Adult Videos
Please note that these DVD's are more than likely American format and might play in your DVD player if you live outside the US.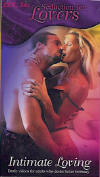 Intimate Loving - Seduction for Lovers - $21.00 Clearance Sale! $9.99
Explore proven techniques of seduction with informative and arousing demonstrations by attractive real life couples. Six scenes illustrate the creativity and excitement that leads to effective seduction and new erotic heights. Learn how to strip for your lover. Discover new ways to seduce and be seduced.
60 minutes VHS with hosts Dr. Patti Britton and Juli Ashton
---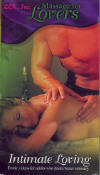 Intimate Loving - Massage for Lovers - $21.00 Clearance Sale! $9.99
Learn the secrets of sensual loving tough that will leave you and your partner invigorated. Follow our couple as they discover new ways to touch and give each other pleasure. Learn with them about creating the perfect setting, using massage oils, arousing all five senses, and relaxing the entire body to find new erogenous zones. Treat your mind, body and sprit to a sensual experience.
60 minutes VHS with your host Dr. Lonnie Barbach.
---