Click on photos for detail
No wholesale on this page

All Natural Handcrafted Soap - $3.50 ea.

Beautiful hand-made all-natural soap made by our friends at the Village Soap Shop. This is the only bar soap we like and use and it's very long lasting. We can't say enough good things about this and that is why we offer it to you. Contains soybean, coconut and olive oils, distilled water, sodium hydroxide, fragrance oil, cocoa butter and vitamin E. Share - Zesty cranberry and sweet orange with dried orange peel. Timeless - Lemon, litsea and peppermint essential oils with lemon verbena. Wish - Lavender, lemon and ground lavender flower. Pure - Lemon grass, fennel, basil and ground lemon peel. Grace - Nutmeg, peach and ginger with kaolin clay and goat's milk. Glow - Raspberry, lime and raspberry seeds. Faith - Sweet orange, clove and ground tumeric. Don't forget Desire above.
---

All Natural Beeswax Candles - $8.50 ea.

These lovely silver tins of all-natural beeswax candles are made by our friends at the Village Soap Shop. We used to only carry Kama Sutra candles and they discontinued them. We have been looking for the perfect candles to replace them and to offer to you and here they are! Share - A zesty blend of cranberry & sweet orange. A favorite. Wish - The relaxing scent of lavender with a touch of lemon.. Grace - An intoxicating blend of nutmeg, peach & ginger. Exceptional in its softness. Glow - A blend of raspberry & lime. You won't be able to get enough of this one.. Faith - Sweet orange and clove are mixed to create this classic favorite. Joy - A classic that keeps our customers asking for more. A light summery floral. Finally, our very own Desire - An intoxicating blend of yummy chocolate and almonds. No zinc is in the wick.
---

Kissable Massage Candle - $14.96 Sale! $11.99

Let Me Kiss You Kissable Massage Candle is aphrodisiac- and pheromone-infused to leave you melting under the touch of your lover. 4.75 oz.
---


Suntouched All Natural 3 in 1 Candles - $18.40 Sale! $15.99 ea.

These all natural candles are made from soy, hemp and other natural ingredients and fragrances. They are designed to be used as a scented candle or you can use the warmed wax as a massage oil and body moisturizer. Just spoon out a little warmed wax into your hand. Deliciously scented, these are just about the most wonderful candles we've ever experienced. Available in many scents and in round or heart shaped containers, 4 ounces. Includes a dipping spoon. The candles smell just like the names from the list.
---

Kama Sutra Massage Candle Gift Set
---

Sex Bubbles, Bubble Bath for Lovers - $11.00 Sale! $9.99

Sex Bubbles is a gentle bubble bath and shower gel formulated with vitamins and herbs to be soothing to your skin and leave you feeling clean and refreshed. Its wonderful fragrance will delight your senses and awaken your sensual awareness. Share the bubbles with your sweetie! Pour 4 capsules under running water to fill the bath with sexy, luxurious bubbles. 8oz
---

Glow in the Dark Bubble Bath-Shower Gel - $13.00 Sale! $10.85

Glow in the dark bubble bath and shower gel! 8 ounces, about three uses. Choose from unscented or from four delectable scents. Packaging may vary.
---

Kama Sutra Treasure of the Sea Luxury Bathing Kit - $23.00 Sale! $18.40
Transform a simple bath into an ocean of azure blue, body and soul imbued with the distant scent of the sea. After basking together in this wondrous blend of natures own sea salts, sea weeds and organic moisturizers, you'll emerge with skin softened, body nourished and soul reawakened to the possibilities of love. 20 ounces of bath salts, a shell scoop and a loofah sponge.
---

Kama Sutra Bathing Gels - $16.00 Sale! $12.80 ea.

Two new bath gels from Kama Sutra to excite your senses and leave you sensuously clean. New scents available in Tangy Citrus: A fresh and zesty bathing gel that sweetly nourishes your skin. Mint Tree: A light tingling minty refreshing feeling. Ocean Blue: A rejuvenating bathing gel that awakens the body with a fresh ocean scent. 17.5 ounce pump bottle.
---
Risqué Bath and Body Products

Chocolate "Soap" - $5.75

Rub a dub dub, showering has never been so fun. Or getting one's mouth washed out with soap never tasted better! 4.7 ounces - Poly

wrapped, tied with ribbon. Cooler pack required for this item shipping to destinations 75° or above.
---

I Rub My Duckie Waterproof Vibrating Duck - Original Size and Travel Size

It's not the beak . . . It's the motion! Strong, but quiet motor. Waterproof personal massager includes AA batteries and waterproof on/off switch No will ever know it's anything BUT a harmless bathtub toy. We carry the standard size and travel size ducks. We love the smaller ducks that we sell as they're powerful and compact and really really cute!
---

Clone a Willy Soap Kit - $33.00 Sale! $30.79

Kit includes everything you'll need to make an exact copy of your penis out of soap from your own home. Luxurious, moisturizing formula leaves skin ultra clean and touchably soft. Includes easy to follow instructions, specially timed molding powder, molding tube, hanging cord, and meltable soap.
---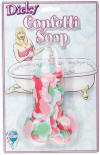 Dicky Confetti Soap - $6.00 Sale! $4.49
Thrust him into water and watch him grow! 6 inches when dry.
---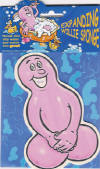 Expanding Willie Sponge - $8.00 Sale! $4.99
Thrust him into water and watch him grow! 6 inches when dry.
---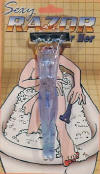 Male Shaped Sexy Razor - $5.00 Sale! $3.50
A real razor with a stud for the handle!
---

Peni Razor - $8.70 Sale! $6.99

Convenient travel case with razor. Almost any disposable razor fits inside. Easy to clean with drain hole.
---