Click on photos for detail
No wholesale on this page.

Strip Dice - $12.50 Sale! $8.49
It's sexy, nasty and fun! Just roll the soft spongy dice (they're quiet) anywhere you want to have some fun. One die is for her clothing, one die is for his clothing and the other is the position to have your way with each other! Includes a free .33 oz. sample of Moist lubricant.
---

Let's Food Around Dice - $7.00 Sale! $5.69
A romantic game for two players or a kinky party game for a group of uninhibited friends. After a player rolls, he decides whose body part he'll perform the action on, based on who each die represents and what is rolled.
---

SEX Dice - $8.50 Sale! $7.20

Looking for an excuse to get a little closer with someone? Play the SEX game! Players take turns rolling the dice and carrying out the appropriate action. Steal chips, reveal foreplay options or win instantly by rolling S E X.
---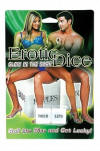 Glow in the Dark Erotic Dice - $4.50 Sale! $3.75
You're guaranteed to get lucky when you roll these dice. This adult game for couples features two dice - one with actions printed on the sides, the other with body parts. Simply roll and then do what the erotic dice tell you to do. Use them all night, no lights necessary - these glow in the dark. Get foreplay rolling!
---

Oral Sex Dice for Him - $4.00 Sale! $3.25
Lick, not luck, is in the roll of the dice!
---

Hot Sex Dice - $18.00 Sale! $12.40
Big fat soft dice that won't wake the kids or in-laws when you want to play late at night, on on your bed or down the hallway. Choose your pleasure with a toss of the dice. Fun pictures, easy to play.
---

Lucky Love Dice - $9.35 Sale! $7.49
Bijoux Indiscrets Lucky Love Dice. Where will the dice fall? Sometimes, love is a matter of chance. Use these dice to discover how lucky you are in love. Bijoux Indiscrets' dice game has been designed so you can personalize it: you control the intensity of the game every time. Contents: 3 dices - 3 sets of 9 repositionable stickers with body parts, actions and places.
---

Willie Play Dice - $6.00 Sale! $5.00
The first dice game made for willie fore-play!
---

Booby Play Dice - $6.00 Sale! $5.00
The first dice game made for booby fore-play!
---

Fetish Play Dice - $6.00 Sale! $5.00

Tickled, whipped, paddled, tied up, spanked or punished - Act out your deviant fantasies with these fetish dice. Take turns rolling the dice and indulge your way to fetish heaven - or hell!
---

Kitty Play Dice - $6.00 Sale! $5.00

Don't neglect your favorite pet. Kitty-Play works better than catnip in bringing out the animal in you. Take turns rolling the dice and foreplay your way to kitty heaven! Guaranteed to make you and your kitty purr with ecstasy! (We're talking about your favorite female, not four legged pet!) Fun for lesbians!
---

Dirty Words - $18.50 Sale! $16.99
This is a fun game to play in private with your lover or a whole group of adults. Includes a dice cup, a 3 minute timer and 23 word cubes with innumerable sentence combinations to play.
---

Bachelor Play Dice - $6.00 Sale! $4.99
Whether you are the groom or one of his groomsmen, you can create hilarious dares, dance, drink and keep the party going all night long.
---

Strip Poker Dice - $3.95
The rules of poker prevail and are explained on back of package. All players start wearing the same number of articles of clothing. Adjustments will be made by players wit the excess removing same. The remaining die is the action die that tells you from where the clothing is to be removed. It is held aside and rolled after the winner has been decided.
---
Naughty Playing Cards & Group Games
Bachelorette or Gay Party Games