Click on photo for detail
No wholesale on this page

Home Lap Dancing Kit - $33.00 Sale! $19.99

Drive your lover wild with desire! This fun kit contains 3 lap dance vouchers, a garter, body glitter, home lap dance booklet, lap dance g-string, and fishnet stockings.
---

The Practical Striptease Survival Kit - $29.95Sale! $19.99

Get Miyoko's popular book the Housewife's Guide to Practical Striptease, a 6ft Hot pink Marabou Boa, four one-time use shaving templates, plus her 30-minute Instructional CD and a 10-minute Stripper Workout! You'll even get a FREE link to her Online Instructional video.
---

All Night Love Affair - $13.00 Sale! $10.49

B

ring passion back into the bedroom with this zesty game! Roll the dice and take turns pulling sexy Love Affair cards. No one really loses in this game of love.
---

Fifty Ways to Tease Your Lover - $16.70 Sale! $13.99

Spice up a relationship with this adult "tie and tease" game. Includes pair of dice, rope, mask, deck of cards, feather, and rule booklet. For 1 couple.
---

Fifty Days of Play - $17.00 Sale! $14.99

Fifty Days of Play has five levels of sexy game-play with ten secret envelopes for each level from Virginal White through Vanilla Light and Dark Grey to Seductive Black and is packed with intimate and romantic gestures stimulating scenarios naughty suggestions and erotic surprises. Players are invited to roll the die to see what shade of naughtiness they will both be enjoying. The colour co-ordinated envelopes then decide who will be the dominant player and who will play a more submissive role today.
---

The Love Fortune Cookie - $10.00 Sale! $8.95

Deliver one of the best fortunes of all time: LOVE. This kit invites you to crack open your heart and offer its message in a way that will never go stale. Reveal the truth of your emotion with the charming fortune cookie container and 88-page book, including over 150 love fortunes to tear out and tuck individually into the container. With this romantic gesture, your love fortune is sure to come true. Beautifully boxed, 3.25" x 3" x 2".
---

Voodoo You Love Book & Kit - $7.95

The black magic guide to getting lucky, getting even and getting over it. Find a date, improve your mate, change your fate? Take control of your love life with some psychic insurance and a little stick-to-itiveness. Try this instead of relying on fate, cupid or a divorce attorney. Whether you'd like to work out your revenge or need help getting someone's heart fluttering, you'll find everything you need with tihs. Has 80 page illustrated Voodoo You Love? book, 1 two-sided male/female voodoo doll and eight pins.
---

Kama Sutra The Game - $25.99 Sale! $23.50

Includes playing board, 56 activity and position cards, a die, 2 playing pieces and instructions. A very creative and enlightening game!

For our full Kama Sutra product line to complement this game, Click here!
---

Superhotsex Deck - $17.00 Sale! $15.95

A crash-course for the sexually adventurous, or those who wish they were. Tracey Cox picks the raciest tips, techniques, positions and scenarios from her best-selling book and distills them into a portable, user-friendly little package. Also try the original (and BEST-selling) SuperSex Deck. Box of 52 Cards and Instructions, 5.75" x 4.25" x 1.25". Beautiful super hot photos, by Tracey Cox. More decks and books by Tracey
---

Sexdeck - $16.00 Sale! $14.95

Each card has the position on one side and the back explains: how to achieve, why it's good for men, why it's good for women, cautions and variations. Examples of the positions are: On the Edge, Discreet Doggie, Stargazer, and Reverse Cowgirl. "Why stick to the same old positions when there are so many to try? Try a new position each week of the year, or try them all tonight. Illustrated, 4" x 5.75".
---

Position of the Day Playing Cards - $6.00 Sale! $5.49
Strip poker?? How passe...try Position poker! Nerve has done it again by expanding the ever popular line of Position of the Day items with this deck of poker size playing cards. 52 cards with all new positions to spice up ANY card game, or love life!
---


Sexoku - $8.66 Sale! $6.99
Over 30 pages of fun and games for the bedroom! Packed with playful puzzles, body teasing word searches and provocative trivia you'll be hooked from page one. Simply pull out your pencil and put your mind and bodies together. You'll be amazed at what new, exciting and sometimes quizzical sexual experiences you'll 'figure out' in this little game book of pleasure! Don't worry, it isn't as hard as the real sedoku.
---

The Oral Sex Game - $13.00 Sale! $9.99

The game for couples who love oral sex. Indulge in oral foreplay as you move around the board and climax with a variety of oral sex techniques. . Click here for oral sex treats.
---

Oral Sex! the Game - $18.40 Sale! $16.00
The Game for Couples Who LOVE Oral Sex! The Game Includes: a 11 in. x 7 in. game board, a die, 2 flavored lube game markers (each holds .25 fl. oz. of lube), and easy-to-follow game rules. All packaged in a really cute tin box. 11.25 x 7.5".
---

Deluxe Spin the Bottle - $14.95 Sale! $12.99
The Ultimate Kissing Game just got naughtier! HOW IT WORKS: The bottle and the wheel spin separately. Perform the action spun on the player the bottle points to. Includes: wheels for 6 SPIN the BOTTLE games from mild to wild! For 2 or more players.
---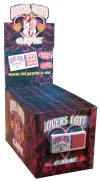 Lover's Lotto - $5.99 for 10 tickets per pack

A fun scratch off game that looks like a real tear off lottery ticket. There are no losers with Lover's Lotto! Everyone wins, every time! 10 tickets per pack.
---

Hot Sex Spinner - $6.00
Hot sex is just a spin away. Simply sin the sex spinner and see how lucky you are with exstasy!
---

Spin the Bottle - $5.99
That old game is back, but for big kids - you and your lover! Give the little bottle a spin and watch out! Sparks start flying, who knows what a little spin will lead to!?
---

Let's Fuck The XXX Sex Game! - $14.00 Sale! $10.80
This is the ultimate guy's game! You won't have any trouble getting him to play. The name alone will sell it! Use the spinner to move around the board of sexual activities until one of your markers lands on the bed. Then you spin the spinner and start F*-ing in the position the spinner points to!
---

SEX! Scratch Tickets - $5.00 Sale! $4.50
Match any 3 symbols and see what sexy treat is on tonight's menu! Package includes 8 scratch tickets. Makes a fun stocking stuffer or greeting card addition!
---

SEX! Card Game - $5.50 Sale! $4.99
Each SEX! card explicitly illustrates wither a foreplay activity or a sexual position. While laying one of the three SEX! card games, you and your lover use the cards to plan out one of the 100,000 possible fantasies. After building a fantasy, you both act it out. SEX! can by played three ways. Compete to build an ultimate night of passion by playing Ultimate Fantasy, let fate decide your night with Fortune Teller, or build you fantasy while learning about your lover's likes, loves, and lusts with Lover's Libido. 3.5 x 5.25 x 3
---

Bedroom Baseball - $17.00 Sale! $15.85
Its game day so embrace your adventurous and playful side and turn your bedroom into the ultimate sexual playing field; a place where you'll spend countless hours of fun and satisfaction. Object: Players run around the bases performing foreplay activities and collecting Home Run cards in an all out effort to be the first player to reach "Home Plate", where sexual fulfillment awaits. Contents: Game Board, 50 Activity Cards, 2 Game Tokens, 1 Baseball Spinner.
---



Romantic, Bedroom or Kinky Vows - $9.20 Sale! $8.20

Show your partner just how romantic you are with Romantic Vows. A romantic collection of sensual suggestions, sweet seductions, and playful surprises which are guaranteed to put the ROMANCE into your love life. Bedroom Vows area collection of naughty suggestions, playful surprises and sexual seductions guaranteed to spice up your love life in AND out of the bedroom. Simply choose a vow and show your lover you are "in the mood", as a reward or just because…it's up to you. Kinky Vows area collection of naughty suggestions, playful surprises and sexual seductions guaranteed to spice up your love life in AND out of the bedroom. Simply choose a vow and show your lover you are "in the mood", as a reward, or just because…it's up to you. Each box contains 72 different "vows" written with soft romantic words for even the most conservative customers. Most of the cards are non-gender so they could be good for gay and lesbian customers as well
---

I.O.U. Games - $10.00 Sale! $7.00
The game of hidden pleasures. Once, twice, or as often as you like, you and your lover each exchange a hidden IOU. Share your erotic surprise with one another and follow the instructions to fulfill the IOU. 42 Hidden pleasures pull-tab cards. Click here to view Fetish IOU.
---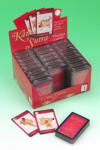 Kama Sutra Cards - $10.00 Sale! $8.98 ea.
A pack of full color playing cards. 54 cards with a different sexual position on each. Explicit photos of couples engaging in loving positions. These cards are for sex education purposes.
---


The Kama Sutra Deck - $17.00 Sale! $14.95 ea.
Discover novel and inventive ways to arouse your lover with this deck based on the Kama Sutra, long venerated as a source of sublime inspiration on romance and eroticism. The Kama Sutra Deck features 50 tantalizing cards, each with a lush color illustration, a verse from the Kama Sutra, and advice on amorous techniques. Leave a card for your beloved to find and you'll inspire an impassioned rendezvous. 50 cards in a lovely box.
---

Stairway to Pleasure - $17.25 Sale! $13.99
This sensual game of love was designed to stimulate and enhance those special moments between you and your lover. It is a way of bringing back or creating new emotions and desires you thought were gone from your love life. Game includes die, 2 playing markers, blindfold, candle and free samples of warming massage lotion and personal lubricant.
---

LovingGame - $30.70 Sale! $27.70
The Loving Game is a romantic board game that is played by two people. Spend a night with your partner that you will never forget! You will learn things you never knew! You will talk about things you never dared! And you will do things you've never done before!
---

Fantasy Cards - $12.65 Sale! $10.99
Erotic role playing game for 2 players. With these cards and the roll of the dice, you and your lover will find intimate roles to play. Provided are character descriptions, locations and clothing suggestions.
---

Sex! Card Game - $5.75 Sale! $4.99
3 ways to play, 100,000 ways to win. Make an ultimate night of passion by playing Ultimate Fantasy, or let fate decide your night with Fortune Teller or build your fantasy while learning about your lover's likes, loves and lusts with Lover's Libido. 50 cards, 3 rule cards and 1 Unleash Your Fantasy card.
---

A Bed of Roses - $16.50 Sale! $15.30

Throughout history the rose has been used to symbolize the expression of love. The seductive qualities of the aroma and beauty are irresistible. A Bed of Roses includes over 150 red re-useable scented silk rose petals, 4 white tea candles, an invitation and romance guide. This makes a great wedding shower or bachelorette gift.

More romantic rose kits, click here.
---

Newlywed Challenge - $5.25

This naughty little spinner game is exciting, spontaneous and daring for the couple! Help them make ita honeymoon they'll never forget. Spinner might land on such as: Sex in the pool, Act out His Fantasy, SEX on the Beach, Sexy Striptease for Him, Sexy Striptease for Her, etc. Includes flavored hot massage oil.
---

XXX Sexy Spinner - $4.95 Sale! $2.99
Outside: You dirty little _______! Tonight I'm going to do things to youthat have never been done before. Spin the wheel, then open the card. . .
Inside. 1. Oral Sex, 2. Anal Play, 3. 69, 4. Handjob/Finger Bang, 5 Toss Salad/Rimjob, 6 Your Wish is My Command
8 x 5 in. Includes white envelope.
---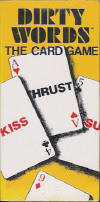 Dirty Words Dice Game, Dirty Words Card Game, Dirty Minds & Deluxe Dirty Minds - Click Here
---
Games with Massage Oils Candles
Naughty Playing Cards & Group Games
Bachelorette or Gay Party Games
Bachelor or Lesbian Party Games