---

Oral Sex! the Game -
$18.40
Sale! $15.99
The Game for Couples Who LOVE Oral Sex! The Game Includes: a 11 in. x 7 in. game board, a die, 2 flavored lube game markers (each holds .25 fl. oz. of lube), and easy-to-follow game rules. All packaged in a really cute tin box. 11.25 x 7.5".
---

The Oral Sex Game -
$12.00
Sale! $9.99
The game for couples who love oral sex. Indulge in oral foreplay as you move around the board and climax with a variety of oral sex techniques. . Click Here for more adult games for lovers.
---

Valentine Essentials Kit - $7.99
Beautiful orgaza bag filled with 12 silk rose petals and an assortment of items for an evening of pleasure: Strawberry flavored condom, Chocolate Fantasy chocolate body paint, Body Heat, Liquid Love, Rain Flavored Lube and fruity body paint.
---

Rose Petals Romance Kit - $5.99
Red
orgaza bag filled with 25 red and silk rose petals with tea light candle and body meat warming oil.
---

Rose Bud Feather Tickler - $8.51 Sale! $7.40 ea.
This is one of the most beautiful ticklers we've ever seen. It's so soft and looks just like a real long stemmed rose. Even the sepal and leaves are made of feathers. Red, purple or black, we'll substitute color if first choice is out of stock. More Feathers and Kama Sutra Honey Dust
---

Panty Rose & Milk Chocolate Long Stem Rose - $7.99 set
One size fits small to large. Kosher OUD.
---

Lover's
Candy Underwear For Her -
$10.50
Sale! $9.99 ea.
Just like the candy necklaces you used to love as a kid but is now made to please you as an adult! Made in a garter belt, g-string or bra to eat or lick off. One size fits most. More ediblue undies.
---

Lover's
Candy Nipple Tassels -
$7.50
Sale! $6.25
Just like the candy necklaces you used to love as a kid but is now made to please you as an adult! r2.1 oz. One size fits most.
---


Unwrap Me
Satin Bow Teddy - $23.00 Sale! $16.99

Adorable one-piece satin bow teddy available in two sizes and three different colors. Perfect for any occasion, not just Christmas or Valentine's Day. More adorable holiday undies and lingerie.
---


Big Bow Thong -
$18.00
Sale! $15.99
Turn yourself into the Valentine gift! Charmeuse and mesh big bow thong with ruffled trim at side. More lingerie.
---

I.O.U. Naughty Heart Invitation Panties -
$12.00
Sale! $9.50
Looking to add some naughtiness to your love life? Make it a night to remember with this I.O.U Naughty Heart invitation panties, the perfect way to initiate your next sexual encounter. How to Use: Slip on your sexy panty and then tie one or more IOU's to the front bow. Greet your lover wearing the panty along with your favorite bra, pasty set, camisole, or nothing at all. At that moment, ask your lover to open the I.O.U invitation(s), revealing yet another wild surprise. Available in red, purple or pink. We'll substitute color if your first choice is out of stock More lingerie.
---

Pink Hearts Peek-a-boo Top and Crotchless Bikini Lingerie Set - $23.99
This adorable stretchy string tie top with full back crotchless bikini panty has cute pink ruffles and pink heart print. One size fits most 2-14. More lingerie.
---

Pure Silk Red Kisses Cami & Thong Set -
$20.00
Sale! $17.99
Pictured is a sexy front tie cami set with g-string for her. Affordable silk luxury and feels so sexy against your skin. One size fits most.
---


Heart Pasties, Panty and Blindfold Set - $19.80
Satin eyemask with lace trim, a pair of sequined heart pasties with attached tassels and a ruched satin cheeky panty with tassle accent and lace heart cut-out back detail. One size fits most medium to small sizes.
---

Lingerie Club - Sexy Bra and Panty Sets with Erotic Treats
All lingerie club selections have been discounted!
Click Here To See All Subscription Options
---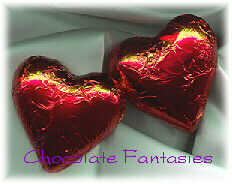 Sexy Panties or Thong with 2 Milk Chocolate Hearts - $18.50
Gift boxed with ribbon More Lingerie
---

Heart Pasties - $12.99 set
Not only are these couture pasties sticky enough to stay put through a night of dancing, sweating, and anything else that might come up… they are also revolutionary in the world of pasties! Each fabric was chosen carefully and applied with a special medical grade adhesive that DOES NOT WRINKLE when applied to curvaceous body parts. Feel sexy and confident knowing your goods are stylishly covered, and if a slip happens, you'll be 'haute'! Each package includes two sets of pasties in the same size and shape, but in two different fabrics, colors or patterns.