Click on photos for detail - on this page.
Snuggle up with the fuzzy sock that warms your cock! The original Tuggie is perfect for warming your morning-wood, hiding your afternoon boners, and disguising those all-day semis. Don't be fooled by cheap imitations—only the Tuggie keeps your hands-free and your junk covered anywhere you go! Ordinary tube socks work great but they look terrible! The stylish, leopard-print Tuggie wraps around your pleasure rod and sack, allowing you to let your stuff hang in any setting you can imagine. Wear it on the plane, in cold movie theaters, at the ball game, on vacation or to the beach--it doesn't matter, you still look and feel great


Dickey & Booby Fishing Lure - $3.75 ea

Guaranteed to land the big one! More Boobie Prizes & Novelties

Pecker Novelties, Prizes, Soaps, Pens, etc.
---

X-Rated Fortune Cookies - $5.25

Ask your waiter to substitute these to shock your date or guests! Approximately 6 per box. Some sayings may include: You are going to get lucky tonight; If you think you feel good, wait 'till you feel me; Your lucky number today is 69-69-69; etc.

Chocolate V Pills

Of course they have no drug effects, but what chocolate does for you is a different story! Gift boxed, tied with ribbon. 3 ounces. Requires cooler pack in warm weather. More Chocolate Gag Gifts
---

Crapola Chocolate Poop - $5.00

4.4 ounces, Cello bag, tied with ribbon. Requires cooler pack in warm weather. More Chocolate Gag Gifts

See our whole line of Christmas Crap, Santa Poop, Reindeer and Caribou Poo.
---

Voodoo You Love Book & Kit - $7.95

The black magic guide to getting lucky, getting even and getting over it. Find a date, improve your mate, change your fate? Take control of your love life with some psychic insurance and a little stick-to-itiveness. Try this instead of relying on fate, cupid or a divorce attorney. Whether you'd like to work out your revenge or need help getting someone's heart fluttering, you'll find everything you need with tihs. Has 80 page illustrated Voodoo You Love? book, 1 two-sided male/female voodoo doll and eight pins.
---

Bad Husband, Ex Husband & Bad Girlfriend Voodoo Dolls - $13.00 - Sale! $7.99 ea.

Whenever you feel that your husband is taking you for granted, use one of the pins to put him back in line. Stick the pin into the activity that you want your target of revenge to do, and instantly he/she will turn back into the same caring person who convinced you to marry him/her in the first place. Has funny sayings, About 10" tall.

---

Bad Boss Voodoo Doll - $13.00 - Sale! $7.99

Whenever you feel that certain someone is taking you for granted, use one of the pins to put that person back in line. Stick a pin into the activity that you want them to do, and instantly you'll start getting the respect you deserve!About 10" tall. Bad Boyfriend, Bad Girlfriend, Ex Husband and New Wife Voodoo Dolls


Blow Job Bib - $3.00

A fun way to dress up the party person when they blow out the birthday candles on their cake. Keeps cake frosting and spilled drinks off of clothing too. Great to keep on hand for discreet office affairs, quickie in the car, a funny gift for someone going on a job interview . . . the gift ideas are limitless!
---

Boyfriend Training Flash Cards - $14.95

Not all boyfriends come dating-ready--so give your guy a little basic training with these humorous flash cards! They make it so easy to teach him those all-important relationship dos-and-don'ts: on one side's an icon that captures the card's subject, and on the other is advice on how to handle the problem. And they cover the essentials in a way he'll instantly grasp, from putting the toilet seat down to opening doors to (gasp!) handing over the remote control. Give him guidance on what's appropriate conversation (telling you how great you look, for example), acceptable mannerisms, and proper dress. In no time at all, he'll wow your family, friends, co-workers...and YOU. 32 page booklet and 50 training cards in a great flip top gift box.

---

Party Survival Baseball Cap - $13.00
Perfect for bachelor's last night out, birthday boys, Spring Break, Mardi Gras, college frat party, etc. Adjustable blue cap.
---



Stick It™ Pads - $1.99 ea.
50 removeable sticky notes. Pink boobs, pink penis or the finer in yellow.
---


Instant Cock or Pussy - $1.05 ea. packet of two capsules

2 capsules containing 'cocks' or 'pussies.' A fun joke for almost anyone. Just add to hot water and to the recipient's surprise, two sponge roosters or kitty cats will appear. Colors vary.
---

Enormex Condom - $5.00 Sale! $4.09 ea.
Super Size for a Super guy! 4" diameter. To ensure maximum protection from conception, this product has been rigorously testes on an African bull elephant before being rinsed out, re-rolled and packaged. (Just kidding!) Adult novelty joke condom. Sold by the each.
---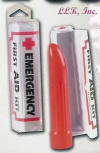 ---
Gag Chocolates, Chocolate Poop, etc.
Naughty Golf Gag Gifts

Link to us!
Adult Mardi Gras Party Supplies
Naughty Holiday Greeting Cards
Naughty Holiday Gift Bags & Wrapping Paper
Adult Christmas Gifts
Adult C
hristmas
Stocking Stuffers
Click here for more adult candy!
Order a Greeting Card