Click on photos for detail
Some flavors on some items may be substituted if your first choice is not in stock. Please inform us if you do not want substitutions.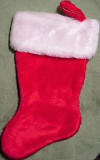 14" Filled Holiday Stocking or Plush Bag
Fill with your own goodies or from our selections! Picture is a sample of what you'd get in the filled stocking. Items vary and it's filled to brim with fun goodies! Unfilled stocking is also available so you can fill it with your own things. Small holiday bag, pictured lower left, contains about 1/2 the amount of the large stocking. Our empty stockings and bags are made of high quality plush.
---
Naughty Stockings - $16.00 Sale! $14.49 ea.

Have you been naughty or nice? Either way, you get something nice and naughty in your stocking this year! This is a smaller version of our deluxe stocking shown at the top of the page. Depending on what type of fillings you get for the person in mind will determine what goes into the stocking. The pictures show a representation of what will be included.
---

Bag of Stocking or Piñata Stuffers, Fill Your Own Stocking! - $33.50
Contains a variety of quality fun for anyone on your X-mas list. Enough to fill a large stocking, the large high heel boot or the penis and booby stockings. Assortment may vary from what is pictured. Guaranteed $40.00+ value of adult novelties, adult and Christmas candy. Available for men, women or mixed couples Stocking not included.
---

Screaming O Naughty Holiday Gift Bag - $30.00 Sale! $25.00
Tis the season for sexy gift-giving with The Screaming O Horny Holiday Stocking stuffed full of intimate essentials for him and her. Show your not-to-secret Santa how naughty and nice you've been! Includes: 1 Screaming O disposable vibrating ring, 1 Ling O vibrating tongue ring, 1 ColorPoP Big O 4-function reusable vibrating love ring, 1 FingO Tip mini fingertip vibe, 1 KissOboo tingly cinnamon lip balm, 1 Climax Cream natural orgasm enhancer for her (sample packet), and 2 Screaming O latex condoms.
---


Penis and Booby Stockings - $10.00 ea.

Full sized stockings ready to fill up with naughty treats for your lover!
---


High Heel Christmas Stockings - $8.50 Sale! $6.89 ea.

Beautiful fuzzy Christmas stockings ready to hang on the mantle and fill with special gifts. Available in black or red. 18.5" long.
---

Large Sequined Stocking - $14.50 Sale! $12.99

20 inch red vinyl boot shaped stocking with silver sequined cuff. The stockings look better than the picture from the manufacturer.
---


Red or Black Vinyl High Heel Christmas Stocking - $13.00 Sale! $10.49
Who's been naughty and is still going to get all the presents? Very sexy vinyl with furry trim stocking to hang by the chimney with care. 14" in Black or Red. Red is not smaller than the black, they're the same size.
---

Men's Boot Christmas Stocking - $11.00 Sale! $8.99

Soft pleather men's boot, approx. 11 inches. This stocking is going to be well hung!
---

BJ Blast Oral Sex Candy - $2.00 Sale! $1.75 ea.

Fizzing, popping, bursting, exploding fruity candy for a memorable BJ! 69 Calories per pack. Made with real sugar, no sugar substitutes, so it's not recommend for vaginal oral sex. Choose from Cherry, Green Apple or Strawberry. We may have to substitute if your first choice is out of stock.
---

X-Rated Christmas AmuseMints

X rated holiday greeting mints with a jumbo peppermint inside. Each packet has an obscene or rude message: Merry Fucking Christmas, Merry SEXmas, Horny Holidays, Jingle Balls, Oh Horny Night, Naughty Noel and Santa's Cumming. Fun to include with Christmas cards or leave on someone's desk at work. More Adult Candy
---

Chocolate Fantasy Body Topping
Choose from four really yummy flavors to drizzle and lick off, don't forget to put it on your ice cream or fruit too! The consistency is like thick chocolate syrup, yum! If your first flavor choice if out of stock, we will substitute. Available in 1 oz bottles and .33 ml sample pillow packs. More Chocolate Body Treats
---

Nipple Nibblers - $3.25 Sale! $2.75 ea.

The best nipple cream on the planet! Cool, tingly and creamy Nipple Nibblers are lusciously flavored balms that you spread on your nipples to make them happy. .25oz. jar in strawberry, razzleberry, watermelon and mandarin orange. Choose your first flavor choice, if we're out of stock, we'll substitute.
---

Nipple Nibblers Sticks - $3.00 Sale! $2.85 ea.

The best nipple cream on the planet just got better! Introducing a new convenient lip balm in all 6 of your favorite flavors! Cool, tingly and creamy Nipple Nibblers are lusciously flavored balms that you spread on your nipples to make them happy. This spreadable treat can be applied easily to any other part of the body that you feel like kissing as well for a tasty treat!!! Choose your first flavor choice, if we're out of stock, we'll substitute. .15 oz.
---

Liquor Lube in 7 Flavors
Now you can get your sexual buzz on with Liquor Lube, a specially formulated premium quality water-based personal lubricant that comes in seven delicious flavors of your favorite cocktail. All liquored up takes on a whole new meaning when you and your partner are ready for delectable edible action. Yummy flavors include Mai Tai, Amaretto Sour, Bahama Mama, Appletini, Mojito, Baileys & Cream, Sex On The Beach. 10 ml pillow pack.
---

Deliciously Flavored Lube Pillow Packs by Rain
Take these for a trip and keep in your travel bag, slip into your purse or keep by the bedside. The more you order, the bigger variety you get. Sugar free, really tastes great. Long lasting water-based include the following flavors: cola, strawberry, mint, orange, chocolate, and vanilla. Condom compatible, .25 oz. each.

Flavored Moist Brand Pillow Packs - $4.75 Sale! $3.89 Pack of 3
Is your lover a treat and good enough to eat? Or do you just want lubrication that doesn't taste like lubrication? These light ambrosial favors turn oral sex into a tasty adventure, letting you indulge your senses with pure flavors enhanced with aloe and no unnecessary additives. Sugar free. 10 ml pillows in Passion Fruit, Cherry, Kiwi and Strawberry flavors.
---

Body Heat Warming Massage Lotion Pillow 3 Pack - $1.99 Sale! $1.59

Add heat to your seduction wit these edible, warming massage lotions. Whether it's for all-over pleasure or to give special attention to your favorite erogenous zones, simply rub it on and then turn up the heat with a lick or hot breath. Delicious fun for the both of you! Sugar free. Lots of fun flavors, let us choose for you.
---

Liquid Love Pillows 3 Pack -
$3.99
Sale! $3.49
Warming massage oil that feels and smells simply delicious. Just rub it on and the warming sensations begin right away, then lightly blow on skin to heat things up for an erotic massage. If you like a certain flavor, we'll be happy to special order small or large bottles for you, just email us. Assorted 10 ml pillows, let us choose for you.
---

Head Job Oral Sex Lotion - $3.59 for 3 tubes
Add something sweet to your next oral encounter. Simply rub some flavorful lotion on your lover and lick it off! It's perfect on him or on her... oral sex has never been more satisfying! Try them all - they're Lip Smacking Good! 8 assorted flavors, the more you order, the bigger your flavor selection. 10 ml tubes. Full sized tubes available by special order.
---

Tasty Twist - $2.45 for 3 packs
The owner of Chocolate Fantasies' favorite! An oral-gasm enhancer balm. Apply to clitoris or penis to tickle more than just your taste buds. A little goes a really long way! Four really yummy flavors (bubblegum, chocolate mint, buttercream and orange dreamsicle. Sugar free. Full size bottle, click here.
---

Happy Penis Massage Cream - $5.00 Sale! $3.49
All natural lickable penis massage cream. Mint flavor. Sugar free. 1 oz flip cap bottle. Other flavors are no longer available, only mint in stock.
---

Love Lickers - $6.00 Sale! $5.50

Inspired by the sensual flavors of popular bar drinks, Love Lickers are cute little 50 ml bottles that have sensually sweet flavored oral sex treats for your tongue's pleasure. Rub it on, lick it off, great oral pleasure. Enjoy eight different flavors. If your first flavor is out of stock, we'll sub with a similar one.
---

Red and Green Dual Color Condoms - $1.00 3 pack

Two toned latex condoms for holiday cheer! Lubricated. Made by Trustex. More Condoms
---

Red and Green Dual Color Condom Pop - $.99 ea.

Two toned latex condom for holiday cheer! Lubricated. Made by Trustex.
---

Super Stretchy Cock Rings - $2.99 Set of 2
For stronger erections. Super mega stretch rings in assorted colors and styles. Let us choose for you.
---

Bullet Buddies - $13.00 Sale! $11.99 ea.
Super-powered 2.5" mini-vibrators! Choose from Pink Bunny, Blue Dolphin, Purple Bear, Green Worm or Red Monkey – the Bullet Buddies come in a color and an animal for every personality! First, it's their cute faces and then the adorable packaging, but it's the super-powered bullet that will make them your new BBF (Best Buddy Forever)! One thing is for sure, she'll never be lonely when you stuff her stocking with Buddy! We will substitute if your first choice is out of stock, we only get mixed displays.
---

Ecstasy Waterproof Bullet Vibe - $5.00 Sale! $4.25

Ecstasy Bullet Vibes are the perfect way to get your sexual buzz on. Vibrate your pleasure zone into erotic overdrive with these super powerful waterproof mini vibes! One speed. Includes battery. Choose your favorite metallic color, but if we're out, we'll substitute with next best color.
---

Dick Tarts - $3.45 Sale! $3.30
Seven flavors to choose from. If your first flavor choice is not in stock, we will substitute. More Adult Treats
---

Rainbow Holiday Ring Pops - $3.00 Sale! $2.25 ea.
1 oz ring pop in holiday striped colors. Sold by the each or 12 pc display. Individually carded in blister pack.
---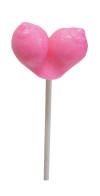 Penis or Boob Sucker - $1.90 ea.
Assorted flavors of a delicious sweet crunchy candy on a stick. 29 g ea.


Peppermint Peckers or Nipples
2.6 ounces, Extra Naughty and Extra Strong! More Peppermint Adult Treats
---

Chocolate Lump of Coal - $2.25 ea.

One 2+ oz lump of rich chocolate wrapped in black foil. Really looks like a lump of coal! Stuff a bunch in someone's stocking who's been a little naughty, but deserves some chocolate! Wholesale available.

Select Flavor
---

I.O.U. A Merry Sex-Mas Coupon Book - $4.80

Make every night of your holiday a naughty one with these 25 gifts. Make the mistletoe much more fun with this ultimate stocking stuffer! 6 x 3"
---

Sexy Thong in Sequined Stocking - $13.99 - Sale! 11.75

Beautiful holiday sequined stocking filled with a sexy silk knit G-string panty. Panty and stocking is embroidered with rhinestone sayings, Angel (in white with marabou puff at back or Bad Girl (in black with red marabou puff in back) and adorned with Marabou. . One size fits most. Get one of each and decorate the tree or mantle.
---

X-Rated Christmas Tree Ornaments - $3.00 - 15.00 ea.

Click here to see all the ornaments!

Click n strip pens make perfect stocking stuffers, click to see lots more!
---