Click on photos for detail
No wholesale on this page except for chocolates below.

Mardi Gras Plastic Shots - $3.50 set
Hard plastic, reusable jewel like gold, green and purple shot glasses. 2 oz.
---

Rainbow Mardi Gras Beads - $2.00 Sale! $1.69
Pack of 6 Rainbow Beads. Perfect for Pride events. From Beistle.
---


Phoney Faces - Boob & Penis Nose Glasses - $6.00 Sale! $4.99 ea.
Put on a happy face!
---

---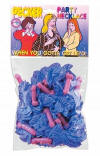 Pecker Lei Necklace & Bracelet

Light Up Pecker Pendants

Glow in the Dark Pecker Earrings
---

Kiss Me Quick Before I Sober Up T-Shirt - $14.99
Hot pink shirt is ladies large, so it fits more, but is fitted, so it's not too baggy. 100% cotton.
---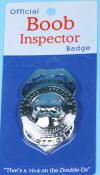 Boob Inspector Badge - $5.99
Give your bachelor the power to inspect boobs and be able to state with certainty, "That's a 10-4 on the Double-Ds".
---

---

12 Milk Chocolate Half Dollar Coins
Choose from two packaging styles. Kosher D. No wholesaleBulk Foil Wrapped Milk Chocolate Coins
---

Click for Mardi Gras Chocolates
-