Click on photos for detail.
No wholesale on this page.

Grow Your Own Boobies - $3.40 Sale! $3.29
Just drop in a glass of water and your new companion grows up to 600% it's diminutive start up size. Don't let little boobies get you down! Now you can have the boobies you've always dreamed of! No surgery necessary! Add to a greeting card, gift bag or have your own fascinating fun.
---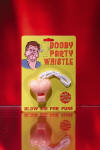 Booby Whistle - $4.50 Sale! $3.69

Take it to the game, bachelor party, poker night or just an obnoxious night out with the guys. Signal that the action is ready to begin. Hard plastic with hang cord.
---
Floaty Female Stripper Whistle Keychain - $6.00 Sale! $4.95

Just give her a little tip and she strips off her black one piece bathing suit to her birthday suit!
---

Dancing Boobies - $4.00 Sale! $3.29

Wind it up and watch her dance. Have a race with a bunch. Package design may vary.
---

Boob Clip Card Holder - $6.50 Sale! $5.50
Add a little something to your next seating occasion or use on your desk to hold a reminder note, business card or someone's picture. Assorted colors, let us choose for you.
---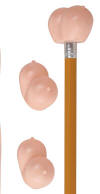 Booby Pencil Toppers - Starting at $1.39
Handwriting might be preferred to typing if you put one on your pencil!
---

Novelty Condom Pops - $1.75 ea.
High quality lubricated condoms in assorted colors, let us choose for you.
---

Two Tone Condom Pops - $1.85 ea.
High quality lubricated condoms in assorted colors, let us choose for you.
---

Boobie Phoney Face - $6.00 Sale! $4.89
Put on a happy face. For dick face, click here.
---

Leg Garter - $3.50 Sale! $2.99

Have fun giving out to ladies or have them do favors to earn one (like Mardi Gras beads). Contrasting color bow appliqué. Choose from several colors. If we're out of stock in what you select, we'll substitute it with next closest color. One size.
---

X-Rated Tees, Funny Golf Balls, Golf Gag Gifts & Chocolates
---

Click for Female Stripper Pens
---
Guys, don't forget to buy the ladies at the bars or clubs fun things as prizes if you got them to or want them to do crazy things for you. Click here for little gifts that will be appreciated!
Boobie Cake Pans, Cookie Cutters & Candles
Mugs, Shot Glasses, Straws & Ice Cubes & Tableware
Gummy Boobs, Tit Tax, Peppermint Nipples, Pasta Boobs, Booby Cookies, Gummy Pussies & Butts
Games, Pin the Boobs on the Babe, X-Rated Playing Cards
Gift Bags, Wrapping Paper & Cards
Don't forget the Erotic Chocolates & Lollipops! Click Here
Click Here for More Adult Novelties
-