Click on photos for detail

Greeting Card - $2.75
Outside: Mr. Golf
Inside: Score a hole in one on your birthday.
---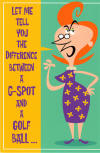 Greeting Card - $2.95
Outside: Let me tell you the difference between a G-Spot and a golf ball . . .
Inside: Men will actually search for a golf ball! Hope your birthday hits the spot!
---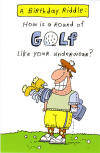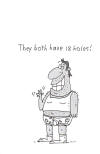 Greeting Card - $2.95
Outside: A Birthday Riddle: How is a round of golf like your underwear?
Inside: They both have 18 holes!
---

Golfer's Shot Glass Set - $3.50
Three plastic tees that say: I Golf, Therefore I Am Not Here. Don't Drink and Drive! (with guy taking a shot). Best Shot of the Day (picture of 19th hole). Gift packaged.
---

Golfer's Boxers - $13.65
Say it with your shorts! White 100% cotton boxers says "It takes HARD BALLS to be a GOOD GOLFER! One size fits most.
---

You've Got Balls! Golf Ball Trio - $12.99 set
High quality golf ball set with hilarious cartoon designs of boobs, balls and a dick.
---

Sexy Golf Tees - $1.60 set
For real swingers! 6 tees per pack.
---
Perfecting Your Stroke Faux Book Masturbation Kit - $45.00 Sale! $40.99

The perfect kit to perfect your stroke...when you are using your 10-iron that is . Includes one clear TPE stroker, a One 576 sensations condom, one 10ml premium Body Glide Lubricant and one 5-speed reusable vibrating cock ring. All in a reusable magnetic book box no girlfriend will ever open.
---


Blue Balls Golf Balls - $5.50

Two blue white chocolate golf balls packaged together with a hilarious header card. 3 oz.
---

Chocolate Golf Nuts - $7.99
Hilarious pecker with golf ball testicles. 3.6 ounces - Gift boxed, tied with stretch ribbon.
---