Click on photos for detail
No wholesale on this page.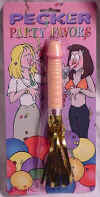 Pecker Party Streamer Whistle - $5.00 Sale! $4.49
Making noise has never been so fun!
---

Jumbo Pecker Whistle - $9.00 Sale! $7.25
HUGE 3.5 x 5" plastic whistle with satin ribbon to wear around your neck. Hilarious, she'll definitely make a spectable of herself wearing and blowing on this.
---

Pecker Party Whistle - $4.50 Sale! $3.75
Hard plastic whistle, includes cord to wear around your neck.
---


Bag of Pecker Party Whistle Favors - $6.00 Sale! $4.99
Bag of 8 soft plastic whistles. If your first choice is out of stock, we will substitute.
---

Penis Party Popper Confetti - $6.00 Sale! $4.40 ea.

Twist the bottom and our flies a huge surprise of colorful little penises! No explosives.
---
Games, Books & Piñatas Penis & Strip Pens, Notepads and Tape
Penis Food & Bachelorette Candy
Tableware, Servingware, Drinkware & Decorations
Invitations, Cards, Gift Bags & Wrapping Paper
Cookware, Cake Pans & Cookie Cutters
Penis Candles Penis & Strip Pens, Notepads and Tape
Bachelorette T-Shirts, Party Hats, Dick Noses, etc.
We can get almost anything you want that's not listed on the site, just ask!
Don't forget the Penis Lollipops & Chocolates! Click Here
Lingerie makes a perfect gift! Click Here
Gifts & Games for Couples & Brides To Be, Click Here
-