Click on photos for detail.
No wholesale on this page.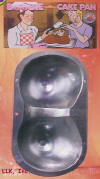 Boobie Cake Pan & Gelatin Mold - $16.00 Sale! $12.99
Approx. 10 1/2 x 5 1/2 x 2 inches. Aluminum reusable pan.
---

Foil Boobie Cake Pans (Set of 2) - $11.00 Sale! $8.99
Approx. 10 1/2 x 5 11.4 x 1 3/4 inches. Tuck the side tabs down and place on a cookie sheet to bake. Can also be used as snack trays, bread or gelatin molds. Both pans will probably take one boxed cake mix. Recyclable aluminum.
---


Boobie Party Candles - $5.00 Sale! $4.25

Light up your night. Pack of 3 Flesh covered booby candles.
---

Breast Wishes Party Candle - $5.00 Sale! $4.29
Breast Wishes! This novelty candle is perfect as a gag gift or for your next adult party! 3.5 x 3"
---

Ice Shots - $4.25

Make four shot glasses in your freezer for icy shots. Can be used to make flavored ice shots too. Kit design may vary.

Rude Egg Fryer - $5.75 Sale! $5.25 ea.

Erotic and eggciting! Perfect for all kinds of kinky cuisine: Fried eggs, penis pancakes, booby burgers and perverted pizzas. Made of non-stick coated metal. Can be used as cookie cutters too.
---

Big Boy Skewer - $15.49

Great for the barbecue just add the saucy sausage!
---

Kinky Cookies

Lots more hilarious aprons!
Bachelor Wear - T-Shirts, Hats, Buttons, etc.

Click for What's

Everything needed for a memorable party or gift is here. If you can't find it call or email us and we'll order what you need!

Booby Cake Pans, Cookie Cutters & Candles
Mugs, Shot Glasses, Sexy Ice Cubes & Tableware
Edibles, Gummy Candy, Mints, Pasta & Cookies
Party Prizes & Novelties, Sexy Golf Tees,

Strip Pens, Etc.

Sexy Candles and Soaps

Games & X-Rated Playing Cards
Drinking & Bar Games
Invitations, Party Kits & Decorations

Balloons, I

nflatable Dolls & Animals
Erotic Chocolates & Lollipops
Naughty Gift Wrap Congratulations Cards Gift Bags
Click Here for More Adult Novelties