Click on photos for detail.
No wholesale on this page.

Big Gummy Boobies - $3.00 Sale! $2.50
Fruit flavored succulent boobies shaped gummie. Made with real fruit juice. Strawberry flavor. Chewy fun for everyone. 2.82 oz., approx. 4 x 2".
---

Gummy Boobs - $5.50 Sale! $4.99
Chewy and delicious in assorted fruit flavors - 5.3 oz.
---

Tasty Titties
Tasty Titty edible gummy goobs are a great tasting gummy candy, that are shaped in the form of a "Sexy" pair of supple breasts! They not only make a great party favor, but also taste great, and will have you and your friends laughing with "sweet" delight When you pop one into your mouth!
---
Succulent Fruity Boobs Boobs - $7.00 Sale! $5.75 ea.
Suck On This! Succulent Hard Boobs Come In Fancy Metal Tin. There Are 3.18-Ounces Of Individually Wrapped Candy In The Tin. Each Candy Is Shaped Like A Tiny Boob And Come In A Variety Of Flavors. The Perfect Treat For All Your Naughty Friends!
---

Boobie Candy Ring Pop - $3.50 Sale! $2.85 ea.
Tasty titties take on a whole new meaning with this boobie candy ring. Strawberry flavor, .07 oz (20 g)
---

Candy Boob Bouquet - $5.00 Sale! $4.49
Cute candy boob bouquet is as charming as charming can get! Each bouquet has a red paper heart-shaped card attached. 50 gram bunch has 6 little individual colorful boob lollypops. Sold by the single bouquet of display of 12.
---

Boobie Pop - $3.00 Sale! $2.49 ea.
These boobies taste great! Strawberry flavor. 42 g ea
---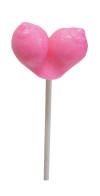 Boob Sucker - $2.50 Sale! $1.90 ea.
Assorted fruit flavors, delicious sweet crunchy candy boobs on a stick. 29 g ea.
---

All Day Boob Sucker - $2.50 Sale! $2.05 ea.
Assorted fruit flavors, fruity hard candy boobs on a stick. 1 ounce ea. Sold by the each or the 60 pc display box.
---

Gummy Booby Pops - $2.50 Sale! $1.69 ea.
1 ounce each, sugar free in 4 assorted fruit flavors, let us choose for you.
---

Boobie Bites $7.30 Sale! $5.89
Perfect for cocktail parties or any adventure! Strawberry flavor. 3.88 oz. bag.
---

Pussy Bites $7.30 Sale! $5.89
Perfect for cocktail parties or any adventure! Strawberry flavor. 3.88 oz. 16 pc. bag.
---

Pussy Lickers Lollipops Singles or 48 pc Tub - Sale!

How many licks does it take to get to the center of your pussy pop. This tasty treat is fun for Bachelor Parties Birthdays and any get together. Let the boys know whos on your mind these hilarious candy suckers. Bowl of 48 pcs.
---

Pussy Lickers Hard Candy Pop - $3.00 Sale $2.49 ea.

Pussy Pops in Strawberry flavor invite you to take a lick.



---

Pert Peppermint Nipples - $6.00 Sale $4.85
Peppermint shaped boobs. Fresh and f risky peppermint flavor - 3.53 oz. tin. Tin style may vary.
---

Pasta Boobs - $7.50 Sale! $6.79
Cook them aldente - firm, but tender! 10 oz. box. Box design may vary.
---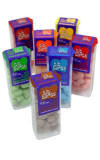 Tit Tarts - $3.70 Sale! $3.29
Next Time someone asks you for a Breath Mint, they will howl with laughter when you pop one of these great tasting Tit Tarts mini booby shaped breath mints into their hands! Makes a great "Ice Breaker" at parties/night clubs etc. Formerly known as Tit Tax. Let us choose the flavor for you.
---

Adult Candy & Treat Mix - $27.99
Perfect for piñatas, stocking stuffers, swingers' parties or just because you couldn't resist. A big gift bag tied with ribbon may contain depending on what kind of mix you select: Edible flavored lube, chocolate body sauce, flavored condoms, assorted female and/or male gummy and hard candy lollipops, AmuseMints with naughty messages and related fun candy with plays on titles such as: Big Hunk, Blow Pops, Now and Later, bubble gum & candy cigarettes, Licorice Pipes, candy lipstick, coconut Long Boys, Good n' Plenty, Cherry Heads, Red Hots, Hot Tamales, Slap Sticks, Bit-o-Honey, Atomic Fire Balls, Wax Lips, Sugar Daddy, gummy lips, Sweet Tarts, Slo Poke, gummy cock ring, etc. Choose for a mixed adult party or just for guys or lesbians. Approx. 1 pound, 12 oz.
---

Adult Cookies & X-Rated Fortune Cookies
---

X Rated Candies
---
Chocolate Pussies, Breasts & Ladies
More Links You Should Check Out!
Boobie Cake Pans, Cookie Cutters & Candles
Mugs, Shot Glasses, Straws & Ice Cubes & Tableware
Party Prizes & Novelties, Sexy Golf Tees, Naughty Pens, Pussy Soap-On-A-Rose & Lots More
Games, Pin the Boobs on the Babe, X-Rated Playing Cards
Gift Bags, Wrapping Paper & Cards
Click Here for More Adult Novelties