Click on photos for detail.
No wholesale on this page.

Bachelor Party Tee - $15.50

'BUY ME A SHOT IT'S MY BACHELOR PARTY.' Two sizes to choose from. 100% cotton.
---

Bachelor On The Loose Tee - $16.95

Gray tee with fun ball and chain motif. One size fits most guys.
---

Bachelor's Last Night T-Shirt & Pen - $19.00 Sale! $17.99

The Bachelor has to complete all of the dares on the front and check each one off with the enclosed pen. Plenty of room on back for autographs, girl's phone numbers, etc. Stripped off bra and hands holding drinks motif. One size fits most. Size - XL, 50% cotton - 50% polyester.
---

Groom T-Shirt - $23.99

Deluxe 100% cotton tee shirt for him. Black tee has white embroidery. One size fits most in XL.
---

Suck for a Buck Kit - $14.92 Sale! $12.98

Includes everything needed to make a Suck for a Buck T-Shirt except the T-Shirt. This top-selling kit can be added to the back of any of our T-shirts or yours. Just iron-on the Suck for a Buck transfer and pin on the candy with the included safety pins. Make an easy $50.00 by selling the "Sucks" for a buck to all the gals! Candy and iron on transfer are now printed in purple.
---

Bachelor Party Survival Baseball Cap - $13.00
Condom, lube, Alka Seltzer, and more . . . what else can a soon to be married guy need? Adjustable blue cap.
---

Bachelor's Last Night Out Baseball Cap - $13.99
Adjustable high quality cap, one size. Feels really nice. Beige with stripped off bra motif.
---

Bachelor's Last Night Bucket Hat - $17.00 Sale! $14.99
Black, high quality cotton - 2 sizes available.
---

Groom Cap - $13.99
Groom's black cap has white embroidery. Deluxe 100% cotton adjustable cap in one size.
---

Ball & Chain - $5.50 Sale! $4.49
Plastic ball with cotton tie and light-weight metal chain. Package design may vary.
---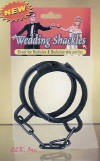 Wedding Shackles - $4.00
Plastic shackles and chain to secure the happy together forever until they kill each other. Great for blow up doll props too.
---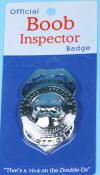 Boob Inspector Badge - $5.99
Give your bachelor the power to inspect boobs and be able to state with certainty, "That's a 10-4 on the Double-Ds".
---

Booby Nose Glasses-Phoney Face - $6.00 Sale! $4.89
Put on a happy face! Package design may vary.
---

Groom Button - $2.25
Metal button says, "Kiss Me . . . I'm the GROOM. Great for bachelor party, wedding, etc. Approx. 3 inches.
---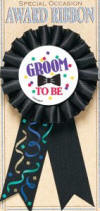 Groom to Be Ribbon - $3.25
Really nice satin ribbon with metal button in the middle. Bottom streamer has metallic streamer print. Approximately 6 inches long.
---

Leg Garter - $3.20

Have fun giving out to ladies, have them do favors to earn one (like Mardi Gras beads) or wear on your arm. Contrasting color bow appliqué. Choose from several colors. If we're out of stock in what you select, we'll substitute it with next closest color. One size.
---

Click on the links below for more fun stuff!
Boobie Cake Pans, Cookie Cutters & Candles
Gummy Boobs, Tit Tax, Peppermint Nipples, Pasta Boobs, Booby Cookies, Gummy Pussies & Butts
Party Prizes & Novelties, Sexy Golf Tees, Naughty Pens, Pussy Soap-On-A-Rose & Lots More
Games, Pin the Boobs on the Babe, X-Rated Playing Cards
Don't Forget the Wrapping Paper & Gift Bags!
Don't forget the Erotic Chocolates & Lollipops! Click Here
Click Here for More Adult Novelties