Click on photos for detail
No wholesale on this page.


Happy Fucking Birthday Partyware
Sold as a complete party kit for 8 (1 pack ea. balloons, hats, plates, napkins and birthday badge) or sold in individual packs of 8 paper cone hats, 8 7 oz cups, 8 cocktail napkins, 8 appetizer plates, 8 colorful balloons, badge or 2 ounce box of fruity candies with 'Happy Fucking Birthday' sentiment and a hand giving the 'bird.' More birthday tableware. Matching gift wrap is pictured further below.
---

Happy Fucking Birthday Piñata - $15.00 Sale! $10.99
This happily decorated pinata that says "Happy Fucking Birthday!" comes flat, empty and ready for you fill with Amusemint candies (sold just below) and little prizes! Measures 12" diameter. Click here for our fun adult candy treat mixes.
---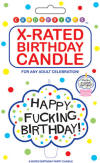 Happy Fucking Birthday Candle - $4.50
The perfect adornment for that naughty party. Works great with the rest of our "Happy Fucking Birthday" collection. The candle itself is 3" tall.
---


Happy Fucking Birthday AmuseMints
Each one says Happy Fucking Birthday! Enclosed is a tasty white peppermint. 3.1 grams ea. Available in new style on right or the old style on the left. Available in 100 pc boxes or small bags.
---


X Rated Birthday Candy - $4.00 Sale! $3.00 ea.
An X-rated party in every box. Tangy fruit candy. 2.25 oz.
---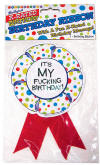 Birthday Badge with Ribbon - $2.75
'It's My Fucking Birthday!' This funny ribbon is made of card stock with a grosgrain ribbon.
---

Blow Job Bib - $3.00
A fun way to dress up the party person when they blow out the birthday candles on their cake. Keeps cake frosting off of clothing too from cake fights and face smashing.
---

Miss Birthday Girl Sash - $10.75

Cute white sash with equined edge with cursive lettering that says, " Miss Birthday Girl." One size fits most. Secure with safety pin or corsage at bottom.
---

Birthday Card - $2.00
Outside: Happy Birthday!
Inside: At your age, I'd scream too! More Greeting Cards
---

Birthday Bar Challenge Gift Bag - $4.00
Your party person has one hour to accomplish all of the items on both sides of this gift bag!
Some of the items that must be accomplished: Do a shot with a stranger. Impersonate your favorite animal at the zoo. Flex your most impressive muscle. 18 items in all to work on. It's totally fun! More gift bags.
---

Happy Fucking Birthday Gift Wrap - $3.60
2 super fun sheets, 20 x 30 in.
---

More Gift Wrap
---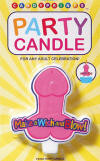 Party Candles
---

Click Here for Adult Party Invitations
Click Here for Over the Hill Invitations
More Naughty Gift Wrap - Gift Bags - Naughty Cards
---
Over the Hill Party Supplies Black Chocolate Roseslaying Cards
-