Warning! Adult humor and content is on this page.
Click on photos for detail

Over the Hill Bingo - $9.00 Sale! $7.50
A fun game for everyone to play. Includes 16 cards, lots of markers and complete instructions.
---

Over the Hill Birthday Challenge Tee & Hat - $17.40
Includes party hat and pen to check off the 17 dares listed. A really fun and embarrassing party shirt for work, big group gathering, going to a bar or restaurant, etc.
---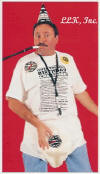 Over the Hill Diaper with Diaper Meter - $7.98
One size fits most. Click picture to see what it says. One size fits most.
---

Estro Ginny Playing Cards - $3.99

Estro Ginny is played just like Gin Rummy. Full deck of funny cards, bridge size.
---

Old Geezer Playing Cards - $3.99
Old Geezer playing cards are for any game you play with a standard deck of cards. They have funny over the hill and silly cartoon images. Full deck, bridge size.
---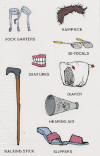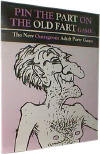 Pin the Part on the Old Fart - $11.00

Large poster with lots of crazy items to stick on the poster of an old fart. Not x-rated. Fun for everyone!
---

Over the Hill Sex Game - $19.00 Sale! $12.99
The makers of this game wanted to call it Sex for Seniors, but they were taught to respect their elders, so with great sensitivity they created this game. Don't worry they already figured that you didn't have much time left to waste on a game about: Making love an exchanging romantic ideas - Created for you and your lover as a means to encourage playfulness, stimulate secret sexual delights, while also bringing new and exciting elements into your love life . . . so they cut to the chase - It's all about getting lucky! But don't get too excited! This game is still a bit of a gamble. After all, your partner's fantasy in the bedroom might not even include you! So give those stiff and achy bones a kick start and see what (if anything) comes up between you and your partner! 1-2 senior players. Includes 1 game board and 1 game die.
---

Over the Hill Vouchers - $4.99

10 very useful survival gifts and services. Very funny cartoons.
---


Hilarious over the Hill Chocolate Dentures and more!
Back to Over the Hill Home Page
---
Nasty Granny Dolls Adult Birthday Party