Click on photos for detail.
No wholesale on this page.

Bear Giftable with Milk Chocolate Foil Wrapped Hearts - $8.50

A delightful teddy bear figurine filled with 4 oz. solid milk chocolate mini hearts foiled in red and pink. Perfect Valentine's or any time gift for children and adults. Keepsake gift box holds memories long after the chocolates disappear! Kosher OUD. IMPORTANT CASE SHIPPING INFO!
---

Tulip Bunny - $4.75

Such a soft and sweet little bunny. Pretty little tulips are made of organza ribbon. Peach and beige colors. About 4 inches sitting.
---

More Stuffed Bunnies
---

Kiss Me Frog Prince Gift Bag - $3.00
Vinyl bag with metallic pink handles. Frog prince has googly eyes with silver heart confetti inside. Bag is clear in the back, so it looks really cute with pretty tissue inside. Also cute for a purse. 7.5 x 9" More Gift Bags
---

Puppy Love with Chocolate Heart - $13.00 Sale! $11.50

.5 ounce red foil wrapped chocolate heart. Plush dog has a red ribbon this year, the heart is no longer available. All are packaged in a cellophane bag and tied with ribbon. Please let us choose the doggy style for you. They change every year.
---

Fuzzy Jointed Teddy with Marbled Rose Lollipop - $13.99
Wrapped in cello, tied with ribbon - 1 ounce rose, teddy approx. 10"
---


Jointed Teddy with Our Signature Heart - $7.49
Wrapped in cello, tied with ribbon - 1.5 ounce heart
---

Milk Chocolate Cigars - 24, 12 & 3 packs
---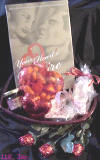 Make your own Custom Gift Basket!
800-595-9936 or EMAIL

---
Click on the Roses for a selection

of beautiful chocolate flowers