Click on photos for detail

Chocolate Nut Cups - $10.00 for 12, $5.50 for 6
Gift Boxed with Ribbon
---

Four Chocolate Logs - $9.50
Filled with peanuts, almonds or caramel, 8 ounces, gift boxed.
---

Milk Chocolate Cigars - $7.50
They look real and are great for celebrating any occasion. 3 ounces, Gift Boxed - Kosher. No wholesale
---

Box of 12 Milk Chocolate Cigars - $

25.50

These look incredibly real, perfect for any celebration. 12 ounces - Boxed as shown. Kosher. No wholesale
---

Gold Foil Milk Chocolate Cigars

Solid milk chocolate molded 3/4 oz. cigars, wrapped in gold foil with the traditional band printed around the cigar. Full case arrives in 8 wood-like gift boxes containing 2 layers of 12 cigars each. Also available in box of 24. A sweet way to celebrate any occasion without the smoke --- masculine or feminine, Fathers Day, Anniversary, baby, Boss's Day, everyday, thank you, wedding desert tables, teacher, graduation, Sweetest Day. No wholesale
---

1 Pound of Assorted Candy - $5.00

Our candy assortment has gourmet candies, lots of really good assorted flavor and styles of lollipops and may have: Tootsie assortment, sour candies, bubble gum coins, taffy, Sugar Babies and Daddies, coffee candy, Jolly Rancher, sour punch straws, éclairs, Perugina hard candies, Puntini, Gliteratti, Irish eclairs, Cry Babies, fruit sours, fruit balls, butterscotches, Jelly Belly twists, mints, fruit rods, fruit swirls, Slow Poke, Bit o Honey, candy Twists, Big Hunk, etc. Great for piñatas or for keeping around for your candy dish. Gift bagged with ribbon. Candy brands and flavors vary. No wholesale
---

1 Pound of Classic Candies - $5.00

Choose a pound of your favorite candy. Many kinds to choose from. Candies are also available for special order, just let us know what you'd like and how much. No wholesale
---

Blow Pops - $1.49 for 6 pcs.

Yummy fruit flavored blow pops are always a favorite treat at bachelorette parties! The only truly tasty blow job. Guy get hot and bothered when they see gals suck on a lolly! Get some and blow!
---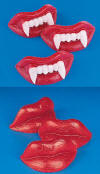 Wax Lips, Mustache and Fangs - $1.29 ea.

Cherry flavored, fun wax chewing gum lips. Choose from fangs, grape flavored black mustache or red lips.
---

Adult Candy & Treat Mix - $27.99

Perfect for piñatas, stocking stuffers, swingers' parties or just because you couldn't resist. A big gift bag tied with ribbon may contain depending on what kind of mix you select: Edible flavored lube, chocolate body sauce, flavored condoms, assorted female and male gummy and hard candy lollipops, AmuseMints with naughty messages and related fun candy with plays on titles such as: Big Hunk, Blow Pops, Now and Later, bubble gum & candy cigarettes, Licorice Pipes, candy lipstick, coconut Long Boys, Good n' Plenty, Cherry Heads, Red Hots, Hot Tamales, Slap Sticks, Bit-o-Honey, Atomic Fire Balls, Wax Lips, Sugar Daddy, gummy lips, Sweet Tarts, Slo Poke, gummy cock ring, etc. Choose for a mixed adult party or just for guys, gals, gay guys or lesbians. Can be made without naughty candies, choose from menu. Approx. 1 pound, 12 oz. Click for more adult candies.

If you're looking for something not listed here, please email or call us for special orders.